I've been having a lot fun putting together these detailed lists. You must have seen my Top 40 Black Female Fashion Bloggers, 101 Black Hair Ideas, Top 40 Asian Fashion Bloggers, Top 30 MakeUp and Beauty Bloggers, Top 30 Bold & Bald Bloggers…and so forth. These posts take ages to complete and I've got a whole lot different topics lined up. Today I'll be serving my Top 70 Curvy Fashion Bloggers. Blogging might just be a trend for some, but for these curvy divas it's a movement. They are successfully eradicating petty myths and beliefs from the society towards plus size women and fashion. I'm also hoping this post is a great inspiration for curvier girls to get different style tips. I'm not blessed with many curves. But these ladies are! They're the best in the plus-size bloggers out there. Let's get into these fabulous ladies who are flaunting their curves fashionably.  Once again, in no specific order.
This 21 year old fierce and curvy blogger is giving me life with her style and makeup tutorials. She and her husband are currently expecting so expect creative maternity looks from her blog. How flawless is this?
Killer Kurves by Karyn Johnson is a plus size fashion blog and resource (based in Canada) dedicated to promoting plus size fashion worldwide. Killer Kurves aims to inspire and teach curvy women about fashion, showing them that you can be stylish at any size. Killer Kurves shares the latest plus size fashion trends and news from around the world; keeping our followers informed and fashionable! And with over 15,000 followers, Killer Kurves is the largest plus size fashion blog in Canada, making it the Canadian plus size authority!
Liz of Illustrious Jewelry is such a gem. She is a jewelry designer and fashion blogger who isn't afraid of colour. I love her hair and she wears some really interesting prints. You must take me thrift shopping sometime Liz. Visit her store here.
The fact that Gabi has been  been featured in Glamour, Teen Vogue, InStyle, The New York Times, Seventeen, Time Out New York and Cosmopolitan says tonnes about her. She's one of the most influential plus size bloggers on the blogosphere. Her blog offers fashion advice (which mostly consists of "ignore fashion rules!!!") and outfits that inspire others to take risks and have fun with clothing regardless of their size. Gabi says: 'I pretty much disagree with most mainstream fashion ideas and reject the notion of "dressing for your body type."'
After 6 years in the AirForce, Naja traded in her combat boots for stilettos and took the fashion world by storm. I love her flawless executions: from makeup to manicure. She always looks very prim and elegant. Naja is a household name when it comes to fabulous curvy bloggers. 
Flaws of Couture is managed by two bloggers Sasha (www.deliciously-fat.blogspot.com) and Garcia (www.atadbitmore.blogspot.com). You can reach each of them at their individual blogs. But I always prefer double the fun, that's why I've used their joint blog as a headliner. These ladies curvy and are working every angle. You would not regret turning up at their blog.
What I love about Kim's blog is that her style is totally versatile. Both regular and plus size readers could learn a trick or two from her. She is werking those natural curls I must admit. Her lipstick is always spot on too. What a stunner.
Tanesha Awasthi is one of my favourite bloggers. She is the definition of elegance. She never fails. She's currently rocking a teenie weenie baby bump:) You should check out her blog for maternity styles. I tapped Tanesha sometime back then to feature on Style Diary and I'm so glad she accepted. You can read her feature and get to know her better here. 
Crystal is a 28 year old fatshionista and mother of one from Charlotte whose style is not defined by the label or size of her clothes but by the style in which she wears them. She believes strongly that confidence is key and is the best accessory to any outfit. I agree! Her cute face is giving me Chrisette Michele vibes.
Jay Miranda is a new mom, writer and blogger who inspires many with her curvy style tips. Apart from her awesome outfit posts, stylish mom chronicles and shoe collection, Jay delivers excellent and well-written pieces. You do not want to give her blog a miss.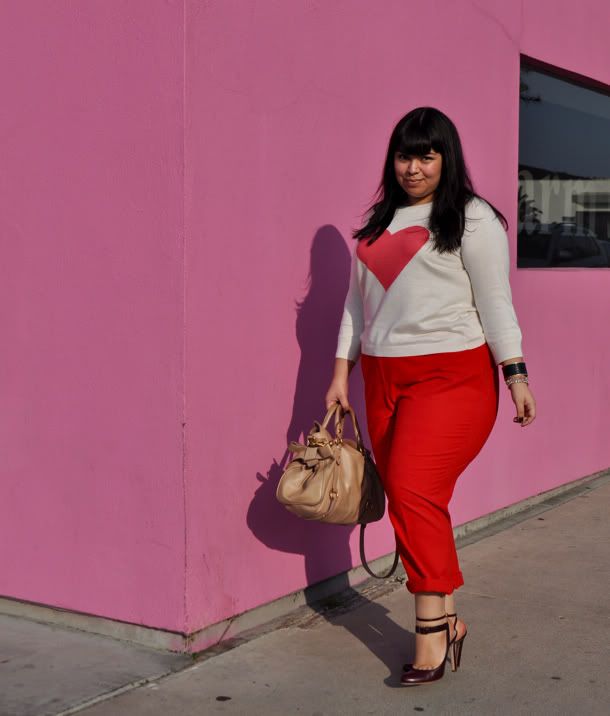 Corie felt there should be more "average" looking women, showing their true styles in the blogosphere. That's why she started blogging. She encourages others to be more comfortable in their own bodies. By the way, there's nothing average about Corie. Her style is casual chic, comfy and relaxed fit. I like it. 
In her own words, Brittany is a 24 year old plus size fashion blogger that loves to be told "what not to wear" because she will break all of the rules! I love this bold and sexy blogger. You'll catch her creating new fashion rules for curvy women by wearing unexpected pieces. She's also on my Top 40 Black Female Bloggers.
I first stumbled upon Amarachi's blog on Instagram. I instantly thought; who is this larger than life barbie doll amazonian beauty? ! Amarachi is one stylish and glamorous lady. I especially love her very handy DIY posts. 
Mitch is a full-figured Pinay woman who's living life at 30. She is based in Manila, Philippines and enjoys blogging, shopping and random photo taking. Mitch offers fresh girl-next-door look and I love them.
Mali-born Assa is a wife and mother of two boys and the proud face behind My Curves and Curls. She's also the owner of another famous blog I love. It's called Ciaafrique and focuses on the latest African Fashion designs. Assa has an affinity for big curls as you can tell already. Assa blogs about the challenges and rewards of being big and tall. Quite inspiring.
A Curious Fancy is a one stop blog for curvy fashionistas with a quirky side. In her own words: I am fat, fanciful and whimsical. Well, actually I'm just plain eccentric, but it translates to whimsical in the virtual medium. I've read her blog. I fancy it!
Shainna (Shay) is the 'thick girl' behind this blog. She's looking to make her own mold in society. I can't get over her dreadlocks and how stunning she looks in them!
Does this lady need an introduction from me? Talk about bringin' sexy back. Nadia Aboulhosn is the epitome of the sexy, curvy fashion diva. Love, love, love her style. I'm not curvy but I get outfit inspirations from her. That says something. Check her-and those curves- out.
Melissa Ward is the face behind Faith Family Fashion. Her blog title reflects some of the things she's passionate about. Love her casual chic and simple ensembles.
Zelie always has some interesting shade of lipstick on. I also love her fun hairstyles. Not to mention her colourful prints. She's recently opened her online boutique for curvy sexy women called Zelie For She. Fierce designs on there!
I love this blog's name! LOL. Keisha is the big boned beauty behind this display of style. I love her blog and fierce style. Always looking on point. Werk it, Lakeisha!
Celia is a A 26 year old NYC stylist who needs an outlet for her many obsessions! Find her on Instagram @ladyshears. Keeps my homepage feisty 🙂
Hold your breathe people. Voluptuous Charmaine is in the building. The 21 year old chronicles her outfit inspirations and offers numerous ideas on how to look sharp. I love how she dresses up simple trends plus her smile will keep you coming back for more 🙂
One thing you can be sure of with Ivory: never a dull outfit from her. I just couldn't help but bookmark her blog. She's gorgeous. And look at all that hair! Bring it Ivory:)
Dionne is a Netherland-based stylish mom who loves clean lines and a touch of colour here and there. This pink skirt is one of my favourite looks from her. She slays!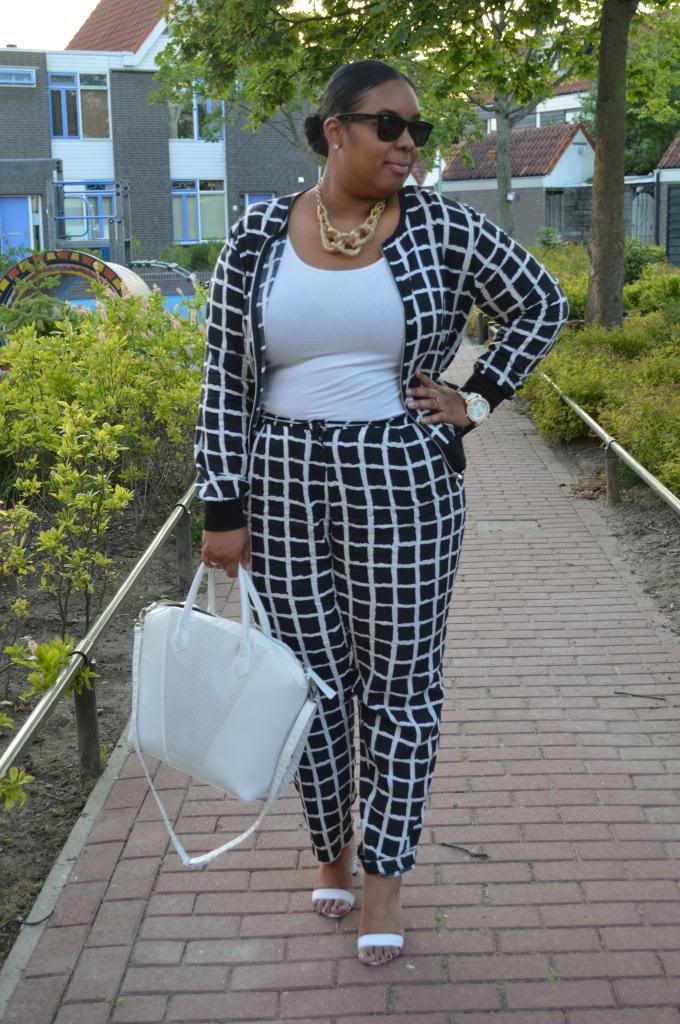 Join Peggy On The Q Train! She's a naturalista and beauty blogger who is full of a life! I love her hair. And her love for pushing the boundaries when it comes to what she wears. She's one fierce blogger you'll love to follow.
Chante is a curvy fashionista who promotes self acceptance and confidence. She's classy, trendy, elegant and very daring. Her confidence just oozes in every outfit which makes her pull it off even more. Gorgeous, gorgeous Chante.
Another blog name I love. Aren't the best of us late bloomers? Well this blogger is far from late and is definitely blooming. Apart from being an ardent fashion lover, she's also a food lover, an amateur designer and creative writer. So many reasons to check out her blog.
This is a curvy lady embracing the feminine and exploring the unusual. keeping an open mind with an eye for flare. She's not "plus sized" but ultimately queen sized 'because I choose to see myself that way.' I've heard that one before but I like it:) I am here for her exotic, holiday and colourful snaps. Yasss!
Mirror mirror on the wall, who's the chicest of them all? It's the Curvy Girl Chic! Allison Teng is a serial shopaholic. Her style is very simple and clean and oh so effortless. I like her…and her YSL heels. 😉
Kiah is a Native American who went from the 'Rez' native reservation where fashion is unavailable to the City and fell in love with fashion. She's giving me vintage meets high street fashion. I like especially her prints. Yes Kiah!
Franceta is an an early-20-something, wild child Toronto native who is currently on the journey to combine her love for both Fashion and Graphic Design into the career of her dreams. I love her hair. She wears some haute lip colours. And her style is D.O.P.E. 'Nuff said.
Sarah Rae is the fashionable mom of two who is passionate about beauty, fashion, health and books. She's also a hair junkie so you'll get a few tid bits from all these on her blog. The ramblings, ravings and rants of Sarah Rae. Hop on!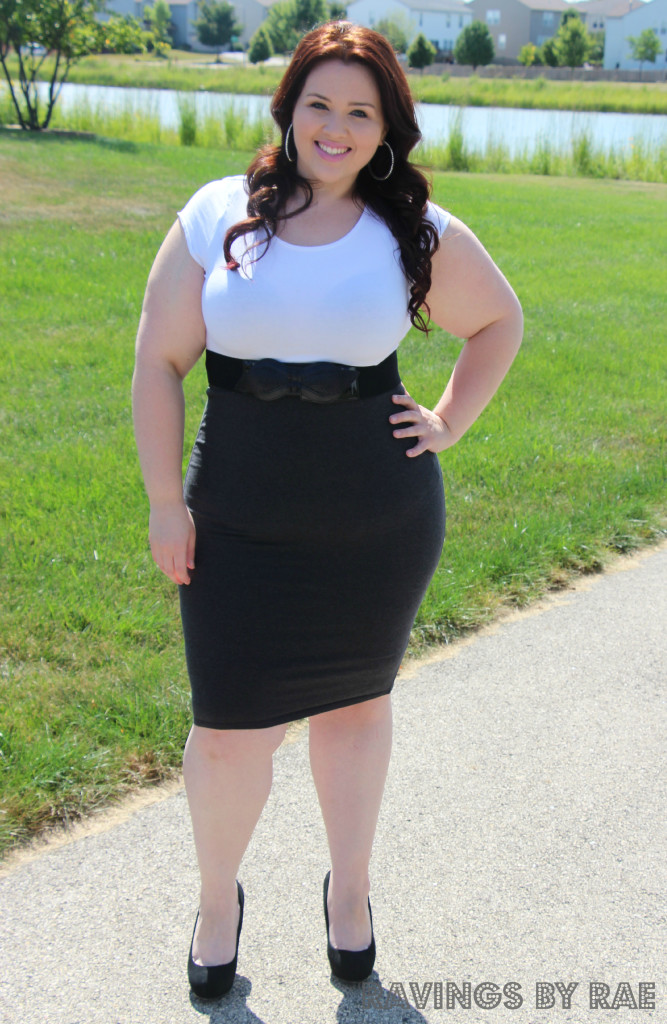 The stunning Sakina is a trendy curvy Parisian. In her own words: I have curves and I love Fashion. I created this blog to show curvy ladies like me, that the supposedly plus size fashion rules, are not always true. We can go way further that you can imagine in fashion and I really hope that sharing my outfits will help things and mentalities change a little bit. You must have more than one trick up your 'wardrobe's' sleeve to be trendy, when you're curvy ! Très chic I must say.
This curvy hottie is on fiyah! She's unique, trendy with a personal twist and her skin glows. Plus, any fashionista with a head full of natural curls is a bonus. what's not to love? Absolutely nothing.
24 year old Kiersten Heath is the name behind this blog. She chronicles her love for fashion and everything trendy on her blog. Now this is how to be curvy and trendy! Visit it for more delightful ensembles like these:
Chastity is a 30 something plus size blogger from California. Her style is classic with a twist. She rocks prints like no man's business. Her blog is a curvy girl guide to style. So if you're looking for shapewear ideas, curvy trends and more; Chastity is your girl.
Danielle is a 26 year old freelance photographer and fashion enthusiast who has been on the blogging scene since 2006. She's got such a sweet personality and her blog feels very honest and personal. She blogs about shopping, family, quick curvy girl fixes etc. You'll love it.
The Curvy Fashionista is a fashion lifestyle blog catering to the Curvy.Confident.Chic. plus size woman. Marie Denee is the editor of this blog which is also kind of a magazine. Her style is sexy boho chic with big hair. I love her personality and her blog offers loads for everyone.
Alissa  is the owner of Stylish Curves. A fashion and lifestyle blog that bridges the gap between straight and plus sizes. The blog aims to give the curvy plus size woman a different perspective on fashion by showing them how to shop within and outside the plus size realm to get celebrity looks and to create their own personal style. Nice shoe collection Alissa!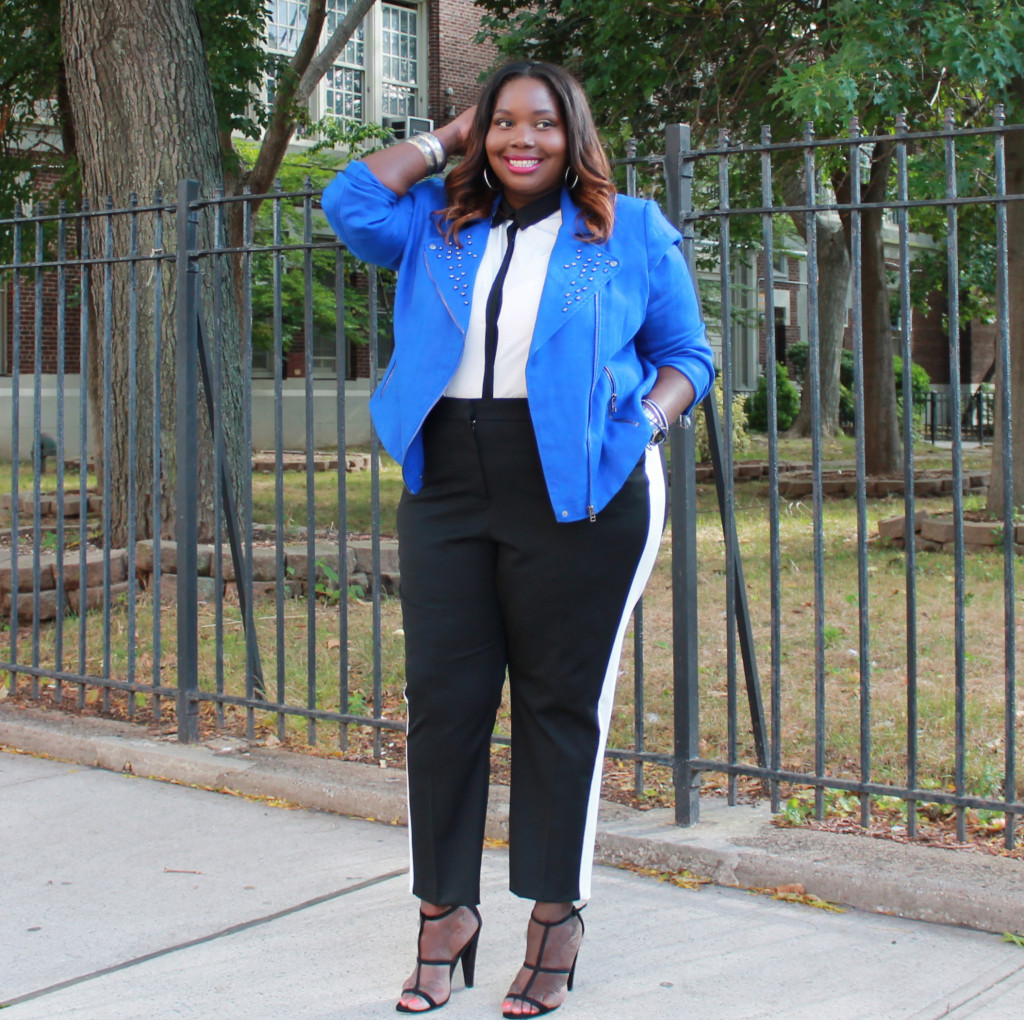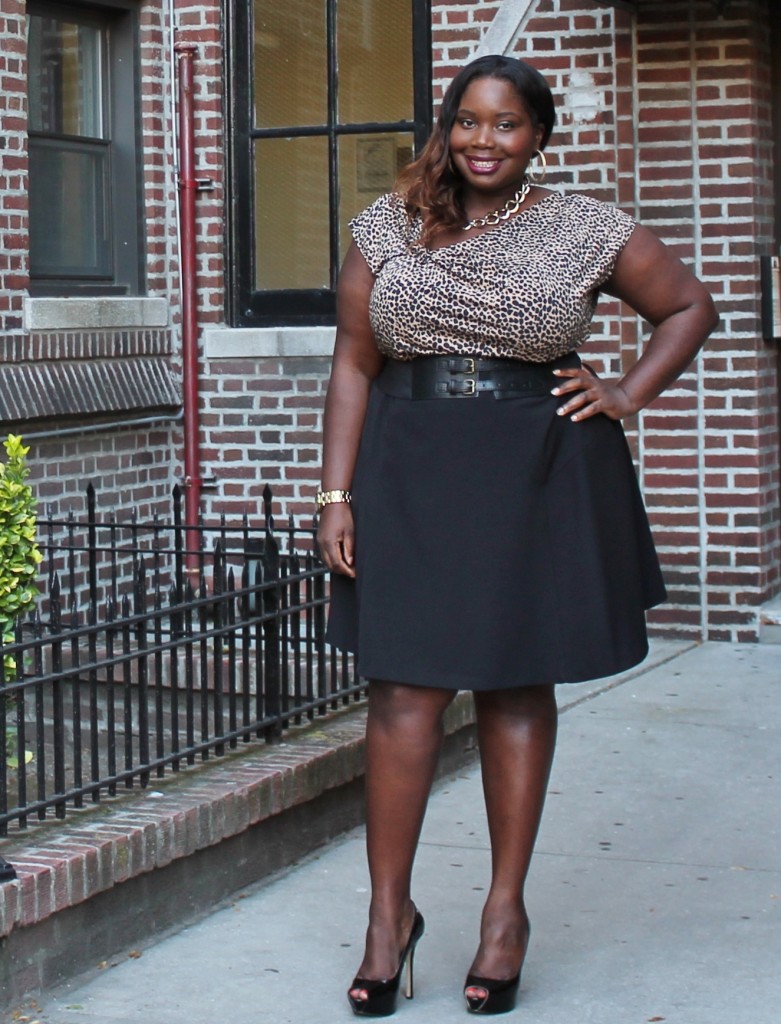 This curvy stylista ain't here to play games. She's gonna climb her way to the top. I love love love how Candace Belle mixes prints. Her ensembles are well put together. Plus I want to steal her orange clutch bag 🙁 Find out on her blog which purse I'm rambling on about.
Francisca of Collective For Us All is giving me Corinne Bailey Rae vibes. her blog is in Portuguese but luckily style translates to any language – so does Google Translate 😉 I couldn't stop going through her pictures. Very colourful, exotic and full of nice accessories! She's also a beauty junkie so expect a few beauty shots here and there. Yes, to that vintage glamour Francisca.
Stylist D. Ni'Cole blogs about her love for showing off her curvy and sexy offerings.Love her fierce hair cut too.
This 30 year old stylish curvy girl is unapologetically phat and fashionable. She is not one to shy away from colour, prints, heels or bright lips. I love that spirit. She's bold, she's curvy and she's here to stay. Go follow her!
Sharlene is out of this world. Her vintage inspired fashion is so unique. Her locs just tie in perfectly with her style. This is how she explains her blog name: As you may have guessed, Sharlendipity has a unique connection to the term serendipity-"an aptitude of making desirable discoveries by accident."  Imagine stumbling into a thrift store or a consignment shop. You discover a vintage piece that if you were able to find in a regular store would cost a fortune…and you got it for pennies. Accidental…desirable…discovery. Go figure!
Pretty face Court is into hair, fashion and makeup. Her makeup looks, like the one below, are flawless. She also features different ways to rock one item which always comes in handy. Lovely blog Court.
Let me introduce you to the real life curvy caramel cocktail version of Carrie Bradshaw…This 25 year old southern chick features various fashion looks, events and wonderful intimate experiences and also showcases her  own plus size fashion line. I love a hard working fashionista 🙂
Cymone is a 24 year old graphic designer whose love for fashion produced this beautiful blog diary. I'd say her style is casual chic. She always looks relaxed in her outfits which is something that comes naturally. Her style is a breathe of fresh air. Nice!
How can you not love that smile? And all that hair! Anywho, Dionne Dean is a a FRUGALista at heart and believe she works too hard for her money to give it away. Dionne shops ANYWHERE for ANYTHING…from Target to Bloomingdale's. She boasts a gift of styling that will make an Old Navy sequined cardigan look like Chanel. Now that's what I call STYLIN'. If you'd like to see that happen, stop by her blog.
You can't have no curvy countdown without royalty. Hence the Glam Princess of Curves. Bow bitches! Always looking fierce and all dolled up is 25 year old Noel who is a lover of fashion and a makeup. She works for MAC cosmetics and is passionate about beauty. I love her Transformation Tuesdays post which shows how far she's come with her weight loss battle. looking great Noel. Werk!
Saving the best for last is one of my favourite tricks;) Hence I bring to you Allie McGevna, plus size celebrity blogger and model extraordinaire. Allie covers New York Fashion Week, the Oscars, the Golden Globe Awards, the New York Film Critics Awards and several major film and television premieres. Her style is flaw-free and she one sexy ass curvy diva. Bring it Allie!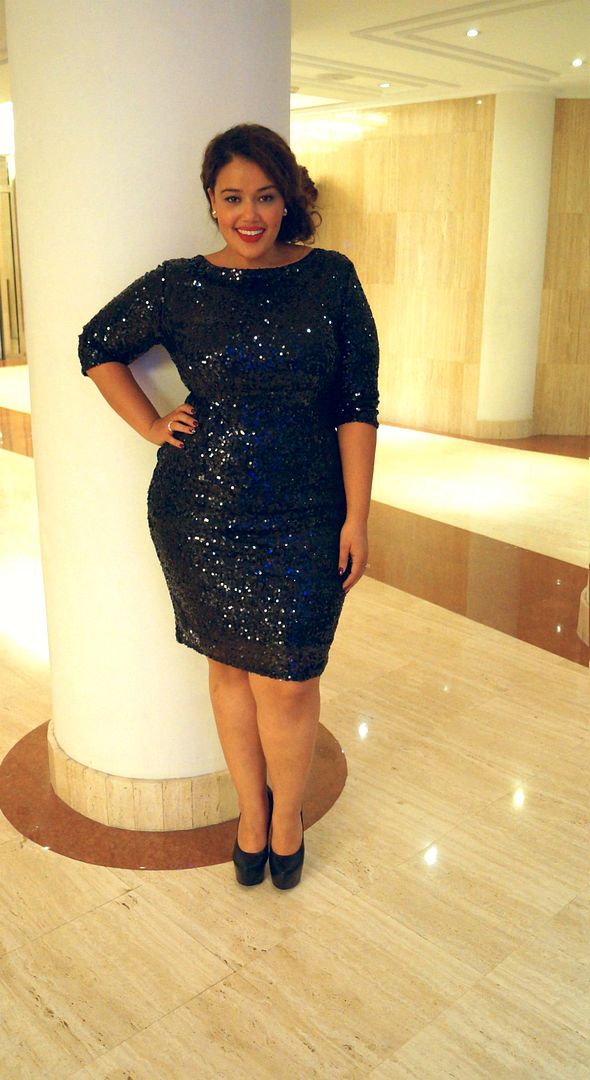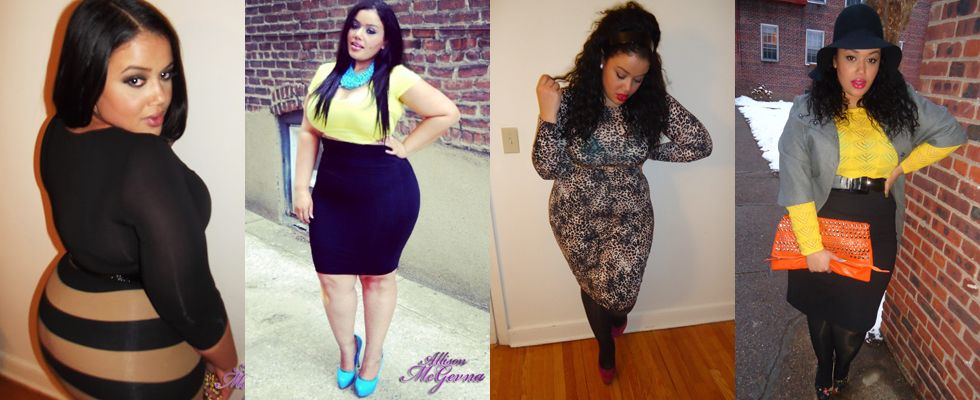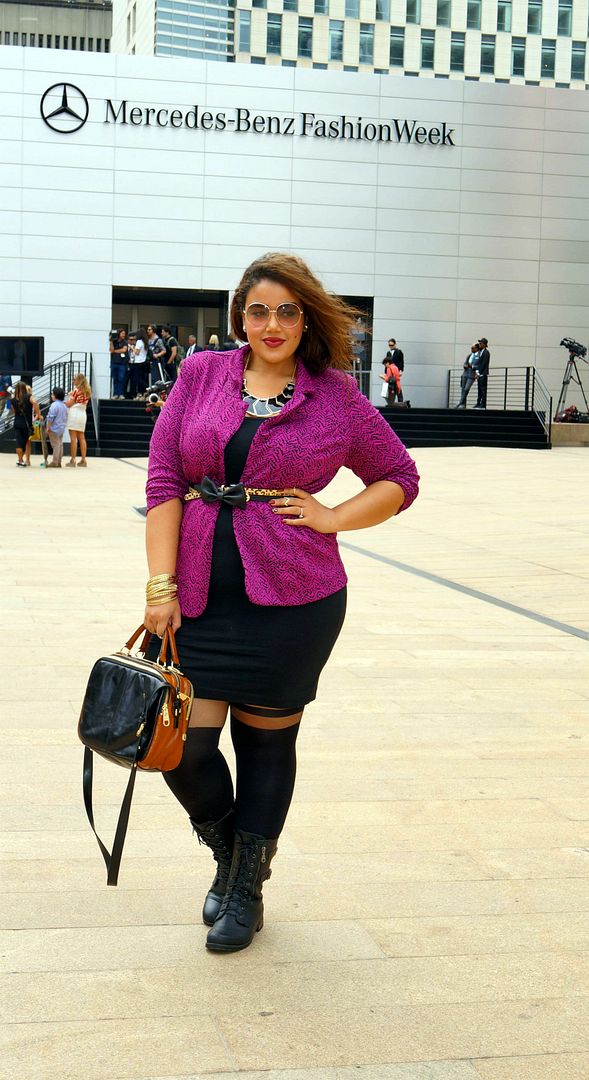 One bonus for good measure…
Emily is a a thirty-two year old weight loss blogger, fashion lover, social media marketer, and writer. Authentically Emmie documents the good, bad, and ugly of going from super morbidly obese to healthy. Very inspiring blogger if you're on a weight loss journey and trying to find and love yourself.
Mia the curvaceous fashionista is making her mark on the blogosphere. She's gone with the wind fabulous Mia is. I love her style.
I'm sorry but these names just keep popping in my head and I can't hit PUBLISH without adding them. I promised 50 bloggers but we all know there are just way too many fabulous curvy divas out there. Take Nicolette for example. How could I have left her out…
Nicolette Mason is a mid-20-something Los Angeles native living and working in New York City. As an exploration of her love for all things design, Nicolette launched her blog in 2009. The blog soon blossomed into the diary of her adventures in international travel, personal style, arts, cuisine and her burgeoning career in fashion writing. Nicolette is a contributing fashion editor and columnist at Marie Claire, as well as the host of the Big Girl in a Skinny World series on HelloStyle. She's the epitome of curvy chicness. Now that's how you SHUT DOWN a countdown. Yassss!
She's the one! It's her! Before this update, I made a note to myself that there was a blog I couldn't remember (see below). Well it turns out it was this Style Chic right here. I kept Googling Style 360 but it links to an Indian blog:( I was in despair. Until Inez tweeted about this post, and I found her! Thanks girl. I love your blog. There was no way I could resist not updating this list with you in it. You're gone with the wind fabulous. Inez is a top notch fashionista showing us all how it's done.
This trendy curvy diva is taking the fashion world by storm. Her blog is fairly new but I already see myself becoming a regular reader because her style is pretty darn fantastic!
Mandy Fierens is a  beautiful, fearless and motivated curvy trendsetter. Her blog is a place of positivity and love. She is encouraging  girls from all over the world to feel comfortable in their own skin, and to look good doing it. I particularly love when she shares on her relationship with her fiance. So sweet 🙂
The Manfattan Project was created by an inspiring woman named Melissa! It is a street style blog that features Melissa's girly and chic style and other full figured people. You'll see a lot of street style, other amazing curvy bloggers and loads of Melissa's style. I like her modern and trendy style. Plus,  she has a stunning face!
Sam is such a doll! I just love her smile. She's a 28 year old blogger (who looks nothing like it), wedding coordinator, positive body image ambassador and an up and coming plus size model. Her blog is very inspirational. I love her positivity and glam shoots:) 
Now that's one tongue-twister of a blog name Sheri. Try saying it ten times. In a row. Really fast…Sheri is a shapely chic who started blogging because she was frustrated with the lack of options available to younger curvy women who want to develop their personal style. SCS  is Sheri's personal style journey, her fashion rants and raves, and her advice on navigating a skinny world as a curvy girl. 
Girl, you ARE fierce! Shakiyla is a Brooklynite with a love for fashion and beauty. I especially love her makeup and hair files on her blog. She has the most laid back, effortless style and it works perfectly for her. Go, fiercely real Shakiyla!
Sabrina is a sample size 16 and werking it! Sabrina says she can never have enough glitter, leopard, leather and bows 🙂 She's a style hunter, which means she hunts down the best bargains and best outfits to suit your curves. Sabrina is a fashion lover/shopaholic whose love of clothing rivals her love of food. Her blog is funny, on trend and inspiring.
Seriously, how am I finding out about all these fabulous ladies only now?! Meet Stephanie Zwicky, a 36 year old fashion blogger, comedian and plus size model. Her blog is in French so it's even more romantic! Lol. She's lives for mixing high street and high fashion. If I were her size, I'd be so raiding her closet. Especially her shoes. She's definitely on e to watch. Sense of style is epic.
As the name implies, I stalk this blog daily. Claire is already on my Top 40 Black Female Fashion Bloggers but I couldn't resit including her on this list. She's a blogger with legs to die for. Her hair and makeup is always beat! Claire chronicles everything fashion-related on her blog; from street style to runway style, to looks for less, celebrity looks. You name it, it's on her blog. She also posts about her style and fashion week appearances under Claire's Style. Claire is an editor and she dresses like one. Never anything amiss on this flawless lady. #teamfashionbombdaily
22 year old Stephanie is a fashionista from Leeds. Follow her blog if you love a hint of tomboy chic mixed with girly textures. Great blog Steph 🙂
Karen is a fashion-loving curvy Canadian girl from Toronto. She and her husband finally realized a lifelong dream by opening their own plus size boutique in Toronto called Your Big Sister's Closet. Her style is elegant and she accessorizes her outfits very well. That online boutique looks great!
Sandee is a stylish naturalista and single mom of West Indian origin. She works by day and blogs stylishly by night. I love all her white outfits 🙂 Especially a white pantsuit and crop to ensemble. Divine. Sandee, your style is on fire. I can't believe I hadn't checked out your blog until now. She's totally killing it guys, go check her out.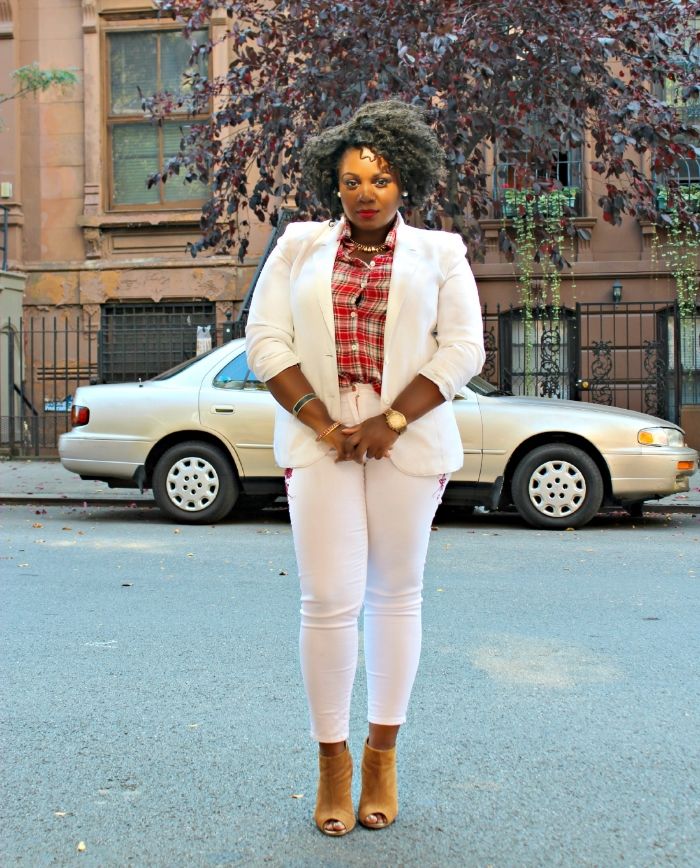 Aimee moved from the UK to Vancouver and blogging helped her to rediscover new styles, designers and fashion. She never goes anywhere without her MAC Russian Red lippie. I don't blame her, her skin is gorgeous against her popping red hair. Aimee's blog is a blog for those who love life & find fun in fashion, whatever size they are.I believe that's you; go follow. Haha!
68. The Curvy and Curly Closet
Paris- based Vanoue is a curvy chic on a mission. She wants, through her blog, to impact and empower plus size style and how it is viewed in fashion industry. Her blog has opened her to numerous opportunities such as walking the runway for french brand Pauline et Julie, being the covergirl for Winkler Magazine, video girl for pop singer Inna Modja and that is only the beginning! Follow Vanoue to find out what her next exciting venture will be 🙂
Gugu from South Africa is not just another plus size fashion blogger.The plus in her size serves as an added blessing. Gugu exudes confidence and is fascinated by how much she's enjoyed rediscovering her love for fashion and styling her body. I think she's graceful and very beautiful. Plus I love her hair!
The Queen Sized Flava started by Sarah is a movement in Montreal to promote plus size fashion and to bring it to the attention of Quebec's fashion industry in order to make it more accessible. The QSF movement is also extremely focused on self-esteem empowerment. Love your drive Sarah. Major crush on that hair, gosh!
Lobna (Lola) is a Miami born Moroccan with curves to die for.Her style is sexy, chic and trendy. I love how she throws in classic pieces every now and then. This curvy diva knows how to dress her body and I ain't mad at that! I love her barely there ankle strap sandals. So effortlessly chic in them.
Whew! I did it! I chronicled my Top 50 (well 70 and counting) curvy fashion bloggers. This has been such a lengthy post to research and write.  Did any of your favourites make the feature? If not, please spill!I briefly read through this amazing blog once at work. Now, I've completely blanked on what the blog was called. It's so frustrating coz she's curvy and killing it! Oh well, I'll  update this list when I remember. Don't you just hate when that happens?
Anyways, I hope you enjoyed browsing through this compilation. Stay tuned for more exciting posts and lists in the future. Inspire others. Share.
Rate, comment, share & subscribe.
Love & Light x
big beautiful girls
curvy bloggers
fatshion
fatshionista
plus size
plus size bloggers
plus size fashion