At this point, the amount of blogs I've got bookmarked on my computer would qualify as obsessive stalking. Like seriously, it's the first thing I do after work.Visit blog pages, make mental notes and yes be green with envy, because guys these bloggers are damn good. But sometimes even after bookmarking pages, it's still hard to find all your favourite links in one page. Hope this post provides you with the all the inspiration and insight you need. I know there are obviously more than just 40 Black Female Fashion Bloggers out there but for a start, these are the ones I visit the most. In no specific order, here they are:
Please click the blog titles to visit their blogs. Opens in a new tab.
Created by Addie, Style Fluency is a blog which is growing by the minisecond because of its creator's genuine love for fashion and amazing style. Very inspirational if you're looking for that balance between elegance and sexiness. Fabulosity.

Yes, my name is Lydie and I'm addicted 2 etsy, literally. Started and run by Cynthia, Addicted 2 Etsy brings you the best in fashion, beauty (especially for Naturalistas), food and travel. Plus she's my home girl! More reason for you to check Cyn out. She was on my

Style Diary

here.
Karen's style blog is the perfect escape for readers ready to delve into the high end styles of New York mixed together with the high street styles of London. 
Fisayo Longe is on top of her game! Seriously,she's slaying from one 'fit to the next. I love how this blogger dares to match up the most daring of colours. And her shoe closet is my wishlist!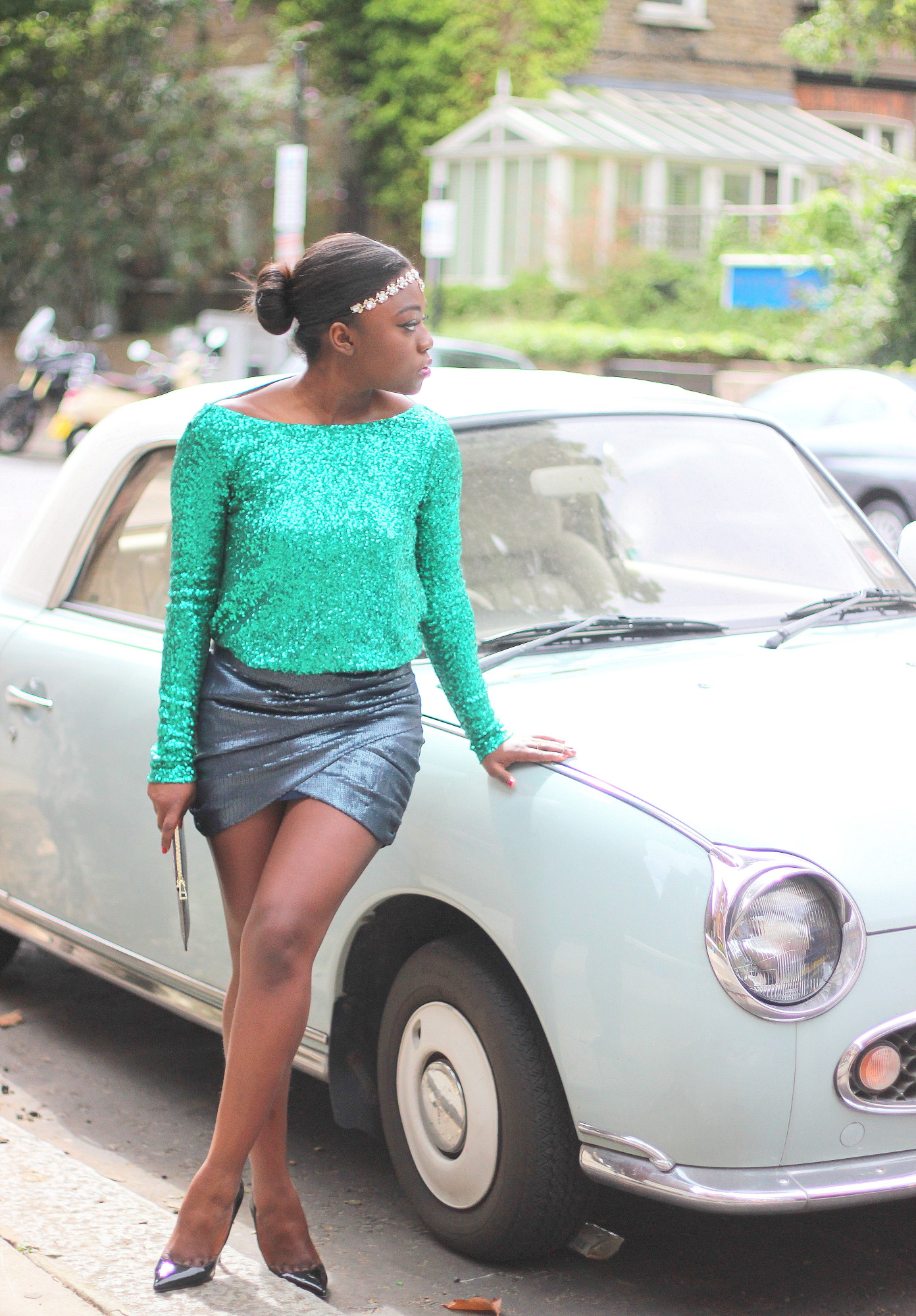 A fashion and lifestyle blog by model Natasha Ndlovu. Her simplicity and style is out of this world. She has worked some of my favourite monochrome looks to date. Read her Style Diary here.
This curvy diva is definitely setting the pace for curvy stylistas out there. All I have to say is her looks are fierce!
One blogger is great but two bloggers in one space? That's just double the fun (and style). You can't help but fall in in love with the Girls Off Fifth.
Soraya de Carvalho nails it when it comes to high fashion street style. She does high end like none other.
Two words: Naja Rules. Period. The style blog of a former army girl who traded in her combat boots for stilettos  What's not to like?  PS: Naja, I need you in my Style Diary. 
Nigerian style enthusiast. Her colourful and African-inspired looks inspire me. She's the truth. Hers is one of the first blogs I came across that made me think about fashion blogging myself. Thanks Nifesimi!
Florie's blog is HARD! What's not to love? Her ever evolving hairstyles and cuts, her edgy outfits, the DIY posts…go see for yourself. Read her Style Diary here.
Elegant, sexy and taurean..hehehe:) Sai Sankoh's blog is my guilty pleasure.
Created by Claire Sulmers, the Fashion Bomb Blog is the shiznit. If you want to know what is happening in the fashion industry (almost even before it's happened..yes Claire always beats me when it comes to fresh news. Damn) well, the Fashion Bomb Blog is a must. Fashion Bomb Daily carries so much variety including celebrity style, runway style, what to wear, Claire's personal style, bloggers' style and street style. You'll love it. Guaranteed. 
Ariel's blog is aptly titled. Admittedly, her style may be faintly masculine and she may only shop in the menswear department but hell, Ariel's one of the best looking bloggers out there. With her natural curls (check out my

Top 10 Natural Bloggers

) and uncalculated ensembles she makes me want to shop at Burton. Grrrrr.
Discover Jillian's world, the 9-5 attorney with a passion for fashion. She's glam to the core.
Wise words and witty yet thought-provoking daily posts by our very own Tiki. Not your usual fashion/style blog; Tiki's Thoughts delves into her daily  encounters and gives insight on juicy topics that we all love to read about: Sex, dating and yes her close encounter with death. 
British belle, Ashley Madekwe off of

Revenge

(one of my favourite series released this year!) has got a serious passion for fashion off camera. Her character on Revenge may not be my favourite (sorry Ash, Emily takes this one), but her fashion sense is just off the chain. I've only got three words for her style: Love. To. Steal.
Ashleigh from Maryland was 'born in heels' (her words). Her blog, The Daileigh captures her love for shopping, fashion and shoes. Her looks are uber-inspiring. 
Ashi is the IT girl of blogging. Period. She wears the most accessible things and makes them statement pieces. Read her feature on my

Style Diary

segment to know more about her.
This blogger combines simplicity and elegance with little effort. You won't regret it checking her style posts out.
Matsidiso Nzimande-Dasilva has that edgy and unique style that many people love but can't pull off. Fierce is her middle name. Her hair and she styles it is another story. Gorge.
You're welcome to enter the closet of this mum, wife and dedicated fashion lover. She's mastered colour-blocking to her finger tips. I love.
Mattie James is such a fun and fresh blogger.Her chic with a touch of quirky style gives me oxygen. Plus she created the

Style Bloggers of Colour

concept which I adore and respect. Be sure to check it out.
I
f you don't know Folake Kuye of Style Pantry by now then you must be new to this blogging thing. What am I even saying? Even new born babies know Style Pantry. Yes, she goes well hard. I just want to Photoshop my head on all her looks and upload them on my blog! Kidding. But seriously, she's the bomb.
If Shirley Eniang is one thing, it's definitely meek. I've never seen such understated, elegant, classy and laid back style. This girl is a natural. Her YouTube videos and DIY are the more reason to follow her.
Jeimy oh Jeimy. She oozes elegances. Another amazing source of inspiration for girls with toned curves. 
Naisy of Afro Vaidosas is of Angolan native and Afro Vaidosas remotely means 'vain African.' You know a blogger is good when you spend hours browsing their blog even though you can't understand a word  (mainly Portuguese) of what you're reading!
Brenda Chuinkam is the stylist behind the blog with the cheeky title. Go girl! can Never Be a Skinny B***h is an unpretentious fashion blog by a Cameroonian beauty queen based in Canada. Love her represention of ankara-inspired outfits and bright colours. Make us proud girl. Read Brenda's Style Diary.
Rachel has been on my

Style Diary

before. Needless to say I'm a fan. She runs Estelle La Mode, a blog that details their styles and travels, with her sister. Beautiful blog girls. Good job.
Tomilola is one of the most down to earth bloggers ever. She gets on her blog and just lets go of her spirit. I think that's what makes it so special. Plus her style is on point. Of course, I got her to do a feature on my

Style Diary

segment.
Zeinabou is the baddest gal out there! She kills Every.Single.Post. I love the vintage feel of her pictures (location is on point). I want her wardrobe, hair cut and can her figure be shipped over  as well? Thank you.
Bambi's Armoire is a dream. The blogger, Tosha, is always one trend ahead. As if the style is not talent enough, she has been blessed with the legs of a giraffe. I'm just green with envy. Kidding. But seriously, she must have have named her blog Bambi for a reason. She's just as graceful as the deer itself
.
Moussou from Mali (living in Plattsburgh, NY) is a budding blogger. Still she's well the contender. Her outfits and chic look have caught my attention. I'll be looking forward to more styles from you lady:)
Sole is a colourful, fun and girly fashionista. She portrays her fashion journey through her fashion-friendly blog.
Do Rae Me was created by two sisters, Dominique and Rae. Beginning with the launch of their handmade jewelry line, the sisters steered their way into the fashion world. With their unique designs, they became recognized on a national and international level. Their aesthetic is very girly and high street. They both look ah-may-zing.Thumbs up.
Awww, talk about swag. Think Tysha James. She gives me inspiration. Her ensembles are stand out. I definiteley have nicked a few ideas off her. Thanks Tysha:)
Okay now this is one daring stylista. i wouldn't even dream of compiling some of the ensembles she puts together. She's in a planet of her own. Edgy, fierce, quirky and daring are words I'd use to describe Jessica. I'm driven to be more adventurous and inventive with my style.
38.

J'Adore Fashion
Stella is the personification of polished up style. Read all about her on her

Style Diary

here.
Freda from Nigeria (lives in Hungary) is a real connoisseur in the making. Her style is so fresh and exceptional, I just couldn't help but add her on this list. 
Javicia Leslie is an American actress. Leslie was born in Augsburg, Germany to a military family. She later moved to Maryland. Her style chronicles are detailed in her blog. Loving her sexy and girly outfits.
And there you have it. My top 40 Bloggers of Style (in no specific order). I must confess, there will surely be a follow up post because I realised while I was putting this post together that there were more than 40 Bloggers of colour on my original list! Should we say part II is coming soon or what? 
Anyhoo, who are YOUR favourite bloggers? are they on this list? If no, bring on your list.
Follow my Instagram at

msaidyl1

.
Rate, subscribe, comment and share.
Think fashion, stay stylish.
best black bloggers
best black female bloggers
black
black female bloggers
blog
bloggers of colour
fashion bloggers
female
hot female bloggers
top black bloggers
top black fashion bloggers
top list