It's that time of the year again. Countdown after countdown after countdown. From style moments, to music to trends…we'll be taking a throwback look at 2014 and selecting our top fashionable moments from our favourite celebrities. I've got a slew of celebrities on my list. Lupita Nyongo'o may have slowed down her red carpet and public appearances towards the closing of 2014 but there's no mistaking, she was this year's IT girl. Nailing all the coveted magazine covers, flawlessly slaying at red carpet events, sealing brand-name ambassador deals; her dreams were validated.
Lupita is a fashionista without doubt and it was hard to, but I have narrowed it down to her top 12 most fashionably stylish looks throughout this year.
12. Skater Girl In Giambattista Valli Couture – Marie Claire Celebrates May Cover Stars
There's at least one Giambattista Valli dress on all the top style moments I've compiled so far. He gets it. Not only do I love a well-made skater dress, but I love an xagerrated skater and this blue floral one Lupita wore is one of them. If you look closely, you'll notice that the flowers are actually 3D and pop out of the fabric which is what I love about Giambattista Valli designs. Amal Alamuddin's pre-nuptials dress anyone? Needless to say with her pink glossy lips and curly frohawk, Lupita looked young, beautiful and refreshing in this. Score!
11. Eartha In Givenchy – NAACP Image Awards 2014
The only reason I've placed this look at number 11 is I'm still on the fence about Lupita's hairdo here. However this Givenchy mustard coloured dress is a wonder. I love the colour against her skin so much. The way it is draped and the bold band across her waist works. She went for a monchromatic look with her eye, lip and manicure.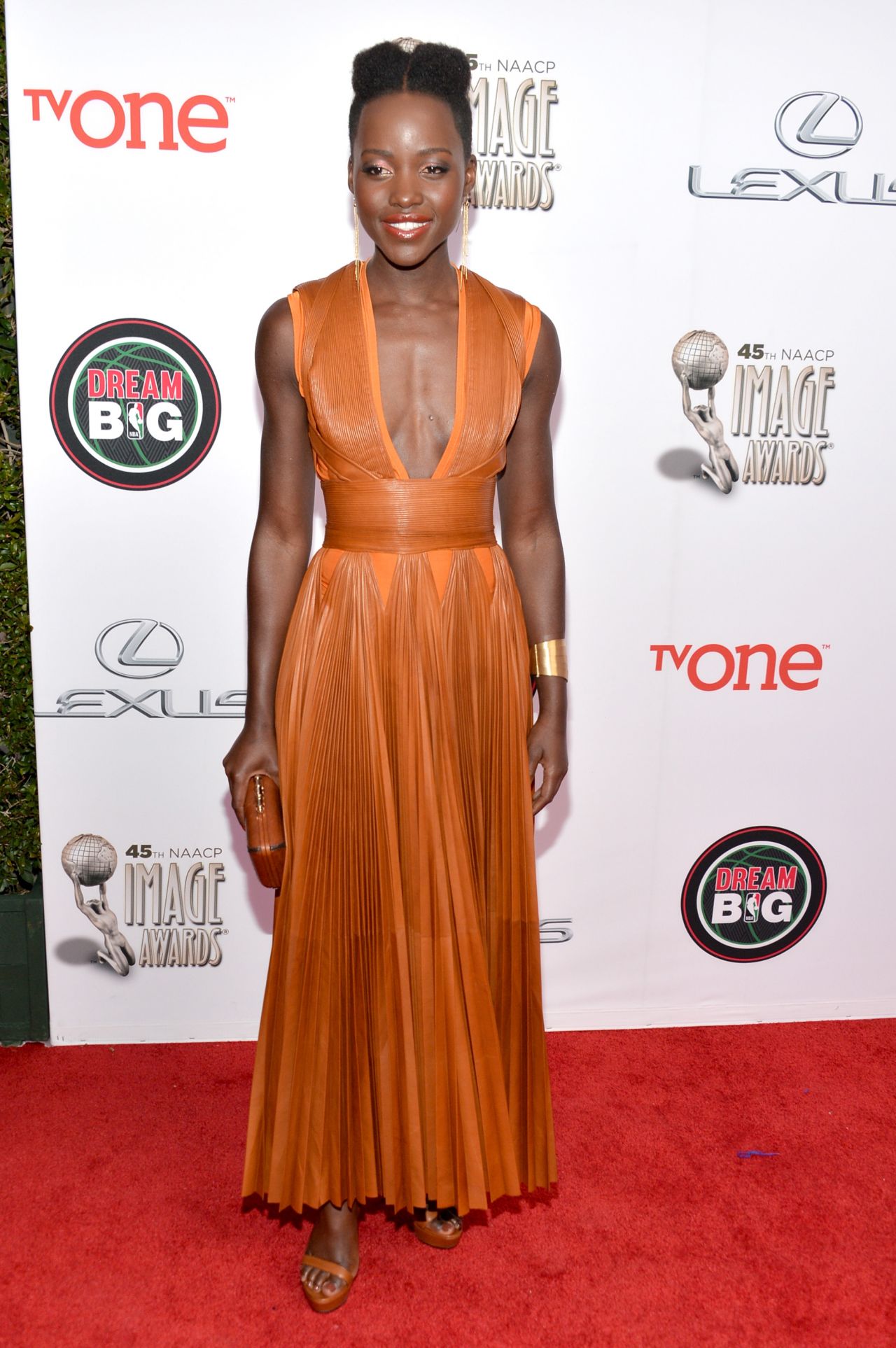 10. Shades of Periwinkle In Altuzarra – 39th Annual Los Angeles Film Critics Association Awards
Simply does it. A lot of the times. Lupita wowed at the Film Critics Awards in an Altuzarra soft-grey 'Marlene' dress from the Pre-Fall 2014 collection. She finished her look with Dior yellow-gold-diamond-and-chalcedony ring and matching earrings, and pair of Bruno Magli lilac patent leather' Olabisi' pumps. She looks so good here. Polished and classy. I just can't. Yes to that nail polish.
9. White Cutout In Calvin Klein Collection – 2014 Critics' Choice Movie Awards
Statuesque is what Lupita Nyong'o looked like at the 2014 Critics' Choice in a white cutout Calvin Klein Collection dress. She is the queen of monochromatic. Love how her accessories and even her award seemed to match her look. 10/10 for that body. Swoon <3
8. Blue Electric In Stella McCartney –LoveGold Honor Academy Award Nominee Lupita Nyong'o
I know electric blue looks good on dark skin but I literally had to stop, hold my breath and clutch my pearls when Lupita stepped out in this £1,550 blue cut out belted Stella McCartney dress. As usual her shoe choice and makeup matched her dress. She wore a bright blue pair of patent Christian Louboutin pumps. I'm so glad she didn't go with an a nude or soft lip colour. That coral red is EVERYTHING. Yes Lupita. God bless you woman.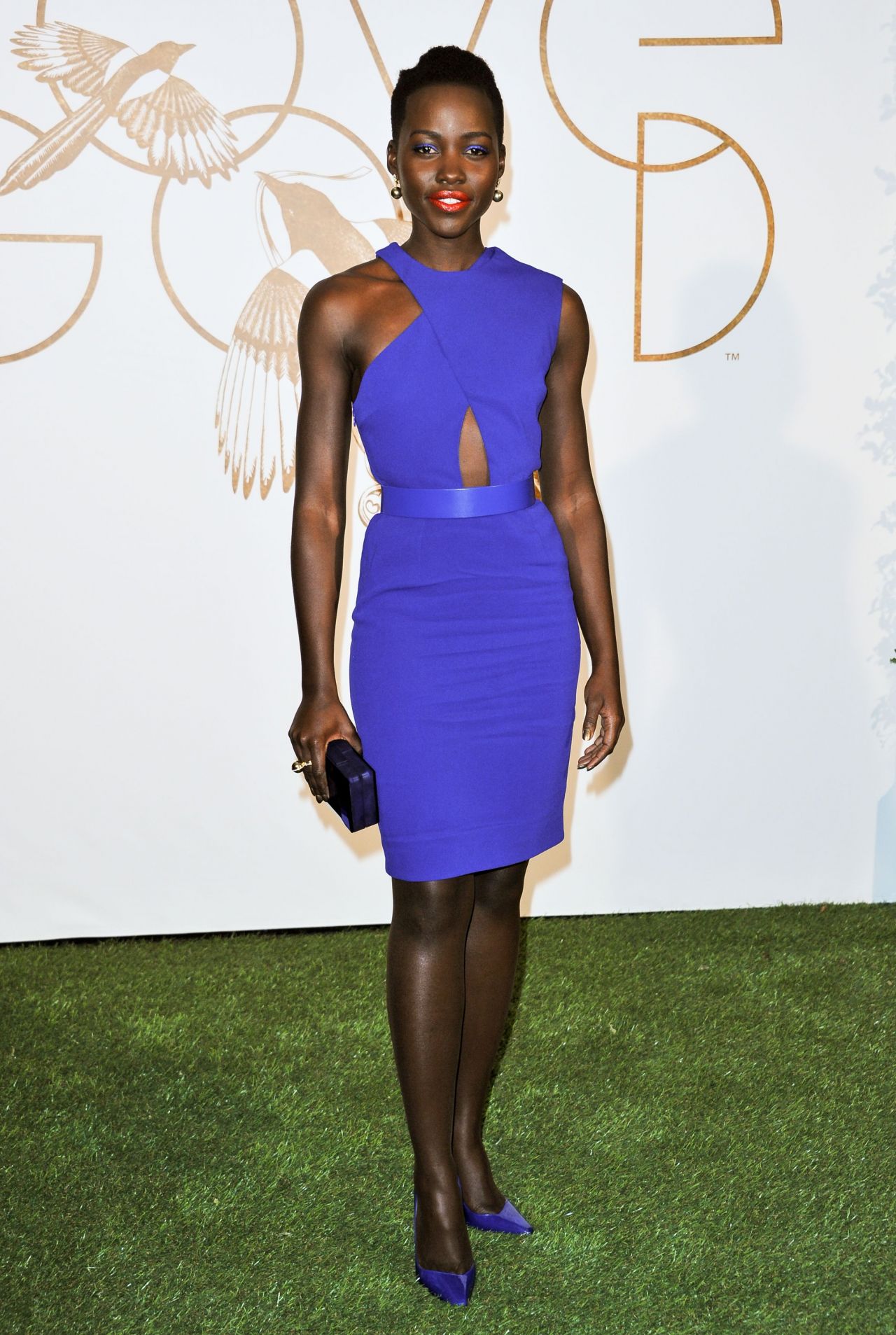 7. Nude Tendencies In Stella McCartney – 2014 Producers Guild of America Awards
It's a noteworthy moment when a lady of colour actually wears something in a shade of nude that matches her skin tone. In this case, Lupita looked breathtaking in a fitted Stella McCartney knee-length frock with an asymmetrical shoulder in a beautiful fawn hue which complemented her skin. She went matchy with a snakeskin clutch and brown strappy sandals. A dark berry lip colour completed yet another striking look.
6. Three-Piece Tweed  In Michael Kors – Women In Film Pre-Oscar Cocktail Party
This is one of my favourite looks on Lupita. I would so wear this in a heartbeat. It looked gorgeous on her especially worn with the jacket on. She added blue Pedro Garcia Rosette satin pumps to seal in her ensemble. The touch of pink on her lips and that white flower on the jacket lifted my soul 🙂 This is how you wear Michael Kors.
5. Colour Play in In Calvin Klein Collection – 2014 Maui Film Festival
This is a simple look but for some reason it has stood out in my mind as one of the times when Lupita looked the most radiant. The holiday-perfect location combined with her skin tone on this aqua pastel colour block Calvin Klein creation is a dream. She looked simply amazing!
4. Turquoise Queen In Gucci – 2014 SAG Awards
No one does red carpet like Lupita. The owned the 2014 Screen Actors Guild Awards in a Gucci silk crepe column wow gown with a subtle train. The stunning number boasted gold-and-turquoise, heavily embellished floral-embroidered straps. Fred Leighton jewels and teal and pink eye shadow and a magenta lip completed this winning look. She was having an astounding beauty moment in this dress. I was speechless.
3. Crispy Creme In Chanel Couture – Glamour Women Of The Year Awards
Not everyone can pull off Chanel. It's so couture that you need a certain class and demeanour to pull it off. Lupita does it with perfection. She donned an off-white Chanel Fall 2014 Couture neoprene dress embroidered with gold, red and coral beads, paired with matching cycling shorts. Gold Kurt Geiger 'Anja' pumps, shimmering gold eye makeup and a rouge lip were added to complement this high fashion look. This is one of her best looks by far. Makeup was impeccable. The beaded detailing of that dress is insane and Lupita looks like a dream in it.
2. Cape Goddess In Ralph Lauren – 2014 Golden Globe Awards
Befor the cape trend took off, lupita had already slayed and captured souls in it. Her off-the-shoulder Ralph Lauren red silk cady cape dress from the Spring 2014 runway which she wore to the 2014 Golden Globe Awards was dramatic. By this time of the year, I could sit back and watch Lupita slay from one red carpet event to another. She was born to do this.
1. Princess Takes It All In Prada – Oscars 2014
They say dress as if you're going to meet your worst enemy. For the 2014 Oscars Lupita dressed as if she was going to meet her worst enemy, ALL her exes and her haters. Damn. She dressed to win. And she won. This dress was spectacular to say the least. every time she moved, I thought she was going to fly. This moment immortalized Lupita as a  role model for every little black girl around the world. A gold headband and snake wristband in yellow gold were amongst the accessories that complemented this look.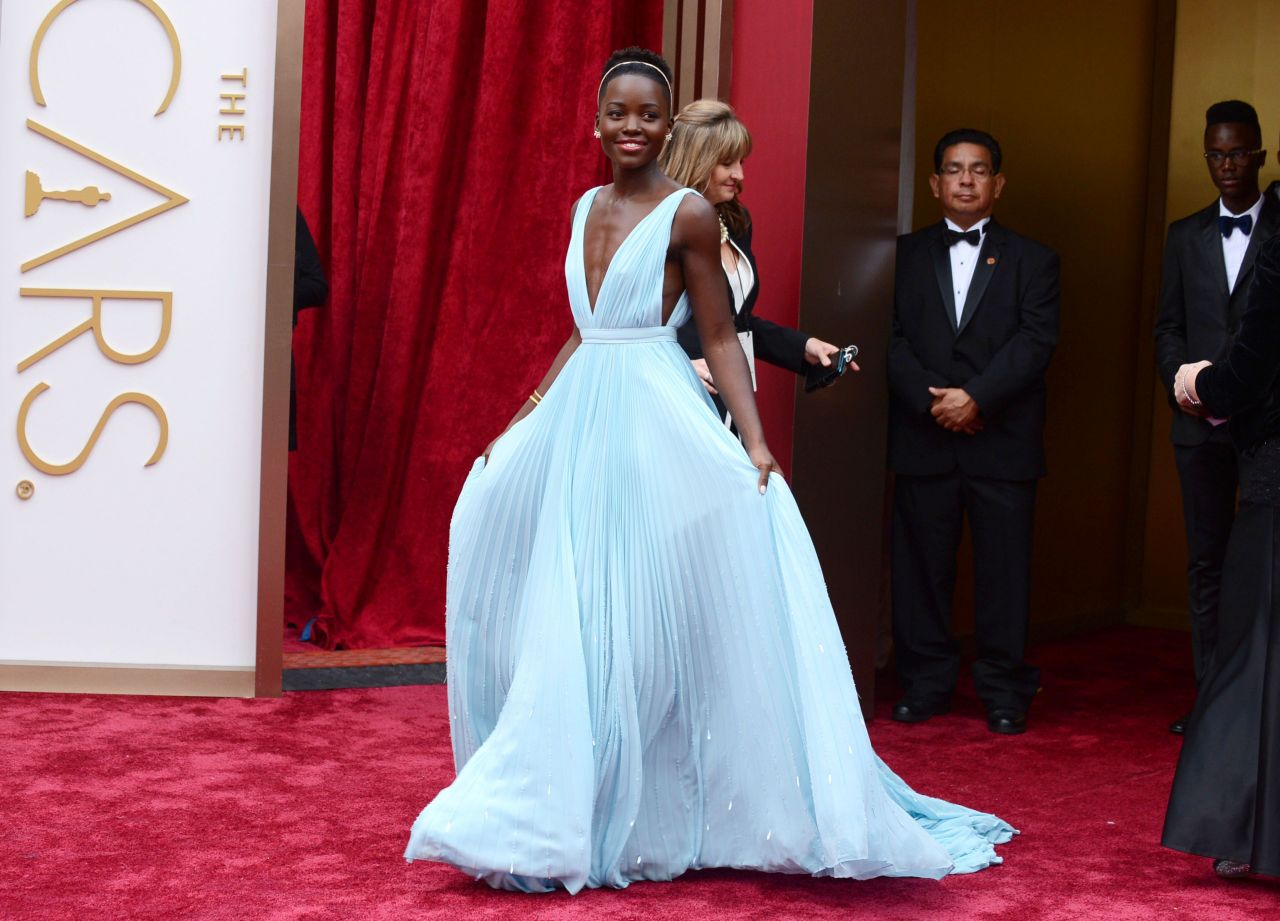 Which looks did it for you?
Did you favourite Lupita fashionable moment make the list? hat did I leave out?
xo
Lydie
altuzarra
calvin klein
celebrity
chanel
fashion
giambattista valli
givenchy
gucci
lupita nyongo
michael kors
prada
Ralph Lauren
red carpet
stella mccartney
style