TGIF!
I've been on a blog hiatus, but that didn't all go to waste! I've spent time putting together a lot of hot collabos and new fun posts for you all. Stay tuned for them please.
To enter this weekend with style, let's take a look at the fabulous Louisa of La Passion Voutee's Style Diary:
ABY: A little intro…
 My name is Louisa Moje, a shortened version of my last name that I use on my blog. I was born and raised in Nigeria and spent most of my teenage years in Edo state where I attended an all-girls catholic school.Being the last of 7 girls and having a twin sister who was crazy about fashion, I quickly picked up an interest in fashion. My blog focuses on simple, chic and affordable clothing.
ABY: Oh you're a twin! Fun. What are your dressing styles and what influences your style choices?My dressing style is classy, chic and minimal. Let's face it, not everyone has the time to get 'dolled up" before heading out to work/school every morning. This approach allows me to look nice without spending too much time on my appearance. Living in a fast-paced environment, my style is certainly influenced by time, my mood, the weather, current trends, and of course my siblings.
ABY: Which brands or designers 'speak to you' the most? 
I love brand name products but I do not let names influence my style or purchase decisions. I choose to let quality, uniqueness and affordability rule my decisions. Brands I really like are Report Signature, Steve Madden, Zara and more recently, Charles Jourdan. I currently have my eyes on some of Schutz collection.
ABY: Oh, I love Schutz too! What do you splurge on? Shoes, shoes, and shoes! And infrequently on purses. A large portion of my clothing budget goes towards my shoe collection. My shopping budget far exceeds my feeding budget; I'll hate to think that I'm starving myself!
ABY: Your skin always look great by the way, any beauty secrets? 
I don't really have any beauty secret. When it comes to my makeup routine, I use very little of a few things. I use compressed powder, lipgloss/lipstick, eye liner and mascara (on occasions, I use eye shadow). I try to keep it to a minimum because I want people to recognize me even when I'm without makeup. I'm also just concluding pharmacy school and visit with ill patients on a daily basis and I'm sure they don't mind how I look .
ABY: Congrats on your degree hun. Have you got any make-up brands you love?
I use what works for me. I have oily skin and tend to try out different brands. Right now I use MAC, Maybelline, and Laura Mercier.
ABY: What is your favourite Fashion Magazine?
I hate/love to admit that I don't read fashion magazine because I get my daily dose of fashion & style from surfing the internet. Why spend the $ on a magazine when you can get quite the same information from other fashion bloggers?
ABY: I have to admit you're right. But sometimes I just can't resist a glossy mag 🙂 What fragrance are you loving at the moment?
I love and use Coco Mademoiselle. It's feminine and subtle. Perfect for work and social events.
ABY: Very tasteful. You can't go wrong with Chanel. Heels, wedge, pumps or flats?
Definitely heels or pumps  🙂 Usually from Report Signature, Zara, Shoe Dazzle, Charles Jourdan
Flats – Zara, Coach, Chinese Laundry,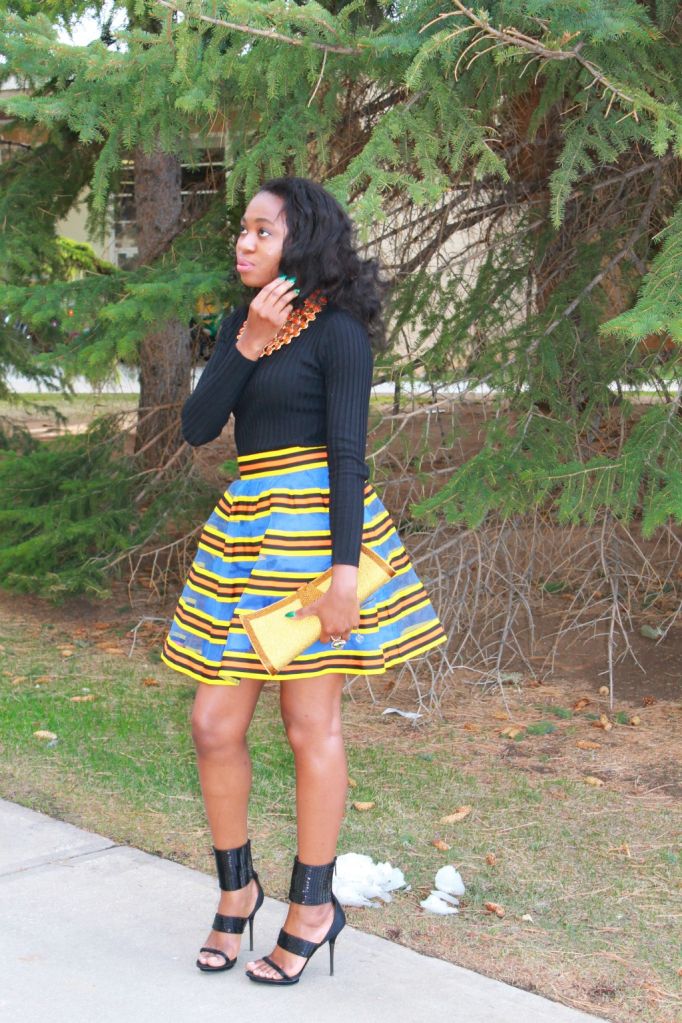 ABY: Your favourite music tracks right now. 
I enjoy listening to a lot of Nigerian music through Gidi Lounge and my favorite track at the moment is Aye by Davido and Eminado by Tiwa Savage. I'm also in love with Ellie Goudling's Burn.
ABY: What trends are you loving currently? 
Easy one – Wiggle dresses and full midi skirts have been on replay in my closet and on the blog. Check out my "Lookbook" on the blog and you'll see why I said so.
ABY: I'm gonna need a midi skirt or two myself. What are your ultimate fashion no-nos?
Harem pants – They just don't look good on my body.
ABY: Uh uh, hunnay, MC Hammer gonna stay mad at you for that! LOL.
Hahaha! I also hate when someone is nicely dressed at a party but missing those pair of stilettos she had on half an hour ago. Not classy! Have a pair of flats handy or bear the pain (after all, no pain, no gain).
ABY: If your life was a movie, what would be its title and who would play you? 
Tough question! I'll have to think about this question for a bit. It'll maybe be titled, "Life, through her eyes". The best person to tell my story will be me and my twin sister so it'll be played by both of us.
ABY: Your top 5 wardrobe must-haves are:
-Midi dresses
-pointy-toe pumps
-a classic clutch
-a nice purse
ABY: Your house is in flames, what one item would you save out of your closet and why? 
Forget the clothes! If I was alone, I'll grab my passport (and pet if I had one) and sprint out the door. My closet is replaceable but lives are not.
ABY: Your all time fashion icons are… 
Halle Berry and Beyonce. Totally love their style.
ABY: Your favourite quote
Fashion Quote – "Fashion is what you make it; your personal style or just another trend." ~ Louisa Moje
Life Quote – "Aim for the moon and even if you miss, you'll land among stars."
ABY: Nice! Your social media links where we can get updates on all about you.
Facebook – http://www.facebook.com/lapassionvoutee
Blog –  http://lapassionvoutee.blogspot.co.uk/
Instagram – http://instagram.com/lapassionvoutee
YouTube – https://www.youtube.com/user/louisamoje
Bloglovin' – http://www.bloglovin.com/blog/4452413
Great style Louisa. I especially love your print ensembles.
What do you think of Louisa's style:
Drop your comments and share , share, share this post!
Thanks for stopping by ABY today.
If you want to be on Style Diary please email artbecomesyou@yahoo.com and I'll get right back to you with details.
Rate, subscribe, comment and share.
Love & Light 
Lydie xx
african prints
la passion voutee
louisa moje
style diary