For most women, keeping a jewellery box full of great looking accessories is a must. Finding the time and resources to buy new jewellery is important. If you want to make room for new accessories, selling your old jewellery is a great option. In order to get top dollar for these pieces, you will need to find the best gold buyer in New York. Once you have sold your old pieces and bought new jewellery, you will have to focus on keeping your investment in good shape. The following are some of the jewellery mistakes you will need to avoid in order to keep your precious metals looking their best.
Avoid DIY Jewellery Cleaning
Perhaps the biggest mistake you need to avoid when trying to care for your jewellery is cleaning it on your own. If you invest a lot of money into the pieces you have, the last thing you want to do is damage them in an attempt to save a few dollars. Over time, the rings you have can get covered in lotion and dirt can penetrate the prongs that hold the stones in place. Trying to get this dirt out with household cleaners may lead to the metal on your ring getting tarnished. The only way to make sure your prized jewelry is cleaned the right way is by working with a reputable and experienced jeweller. They will have the tools and the time to adequately clean your jewellery.
Stay Out of the Shower With Your Jewellery
Getting a shower or taking a dip in the pool with your jewelry on is an accident waiting to happen. All it takes is one false move and your rings, bracelets or earrings will be headed down the drain. Not only do you risk losing your jewelry in the shower, the water can lead to them getting damaged. Over time, soap scum and rust can start to gum up the inside of your rings or necklaces. Trying to remove these materials from your jewelry can be quite difficult. Even if you are wearing costume jewelry in the shower, the heat from the water can start to loosen the glue that holds these pieces together. If the glue weakens, it will lead to these pieces of costume jewelry getting ruined.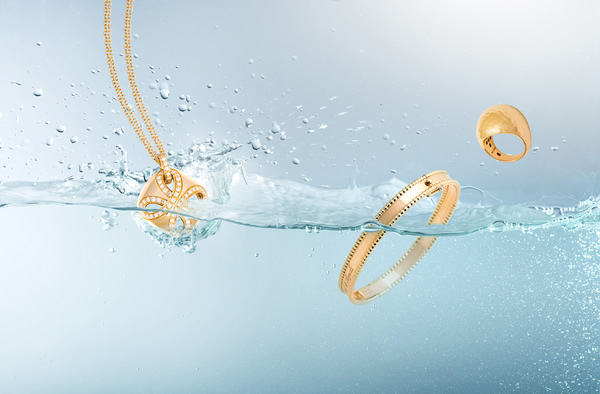 Improper Necklace Storage Can Create Problems
Another jewelry mistake you need to avoid is improperly storing your necklaces. If you do not have a necklace tree, then you need to invest in one. Trying to put all of your necklaces in a drawer will usually lead to them getting tangled. Attempting to get these necklaces untangled can be nearly impossible and may lead to you damaging these pieces inadvertently. When putting your necklaces on a necklace tree, you will need to ensure they are clasped shut. Without the clasp engaged, your necklaces will fall and could potentially get damaged as a result. Taking precaution when storing your necklaces can help you keep them looking their best.
Failing to Get Sized Before Purchasing Rings
If you avoid getting your fingers sized before investing in rings, chances are you are going to choose the wrong ones. Wearing rings that are too big for your fingers will generally lead to them slipping off. The last thing you want to do is invest good money in a ring only to lose it later on. The best way to avoid this type of issue is by working with a professional jeweller in your area. They will have no problem measuring your fingers and getting you the right sized rings.
Before buying jewellery, you need to do some research to figure out which supplier in your area is the right fit for your needs. Choosing a jeweller with experience is essential when attempting to get high-quality jewellery at the best possible price.
diamond rings
how to
jewellery
rings