So the MTV Video Music Awards went down last night…and I slept through it. But you must understand, I tried. I tried to stay up for programming but time difference is a bastard. While it was only a good ol' Sunday in America, airtime for us here the UK was at ungodly hour:( Well, thank God for catch up TV. I hear there's a lot of bits that made moms cringe. Like this bit-
But let's just get into the fashion first shall we? Ciara turned it up with rapper boyfriend Future. She donned an ethereal feathery sheer Givenchy nude number. Divine. She kept her makeup and footwear in the same flesh tone hue.
Selena Gomez slayed in a Versace creation. Her dress boasts a lingerie bustier and thigh-high slit. Yasss! This is how sexy elegance is done.
Katy Perry showed off leg in an Emmanuel Ungaro leopard print dress with butterfly embellishments around her decolletage. She pulled this look off well I must say.
Rita Ora stole the night as she channeled Beyonce  best look of the night as she strutted the red carpet in this Alexandre Vauthier dress. The thigh-high slit feature of the dress gave us a peak at her toned legs. I love her haircut. And who else is loving her face without that signature red lip?! She looks fabulous. Best she's looked in a while really. Go Rita:)
Taylor Swift totally, like totally, looked different in a navy bandage dress. She went for retro Hollywood glam with her hair. She looked demure.
Miley Cyrus and her tongue were at the event in full flesh. She was clad in a Dolce and Gabbana off-the-shoulder crop-top and high-waist leggings embellished with  colorful gemstones. She gave to her look with double mini-buns and Giuseppe Zanotti peeptoes.
Rihanna came in through the back door in her jeans and a t-shirt. Her face looked beat as always.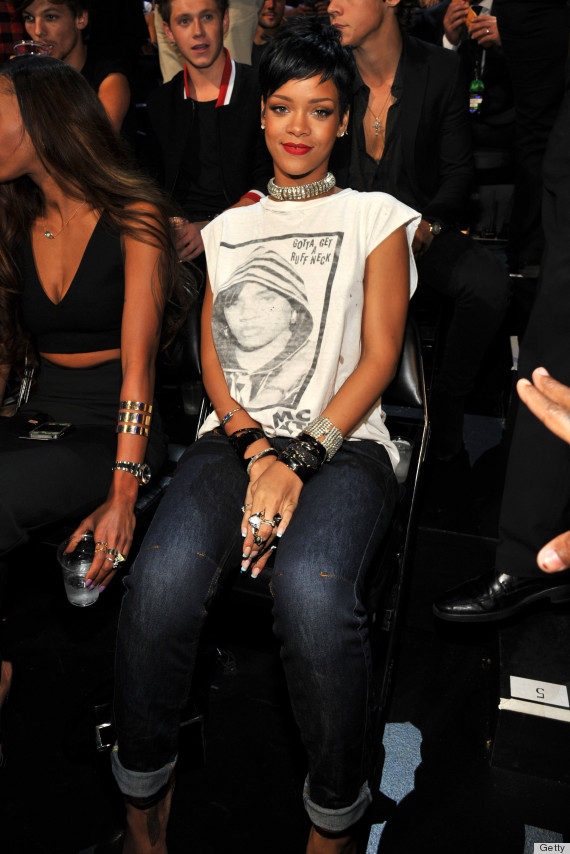 She added a grill for good measure.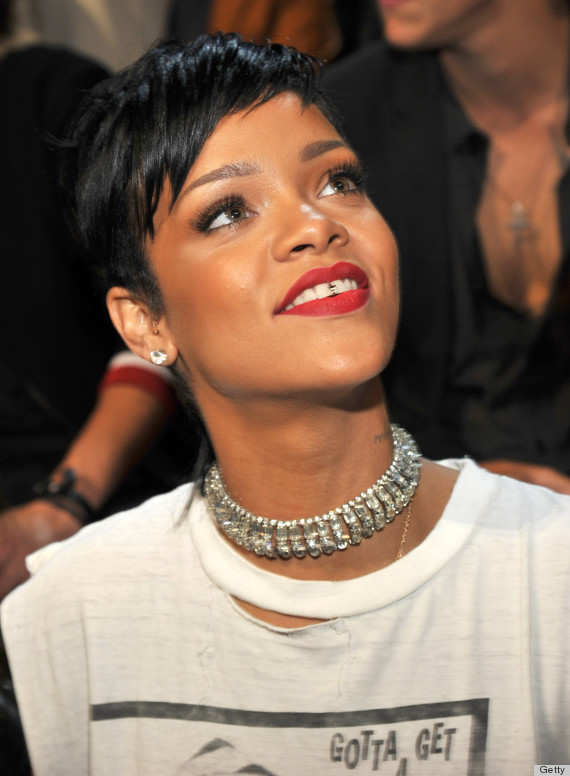 Jennifer Hudson looked nice in a leather hounds tooth dress and Christian Louboutin pigalle court shoes. Great and chic look overall.
Ariana Grande was cute as button in a floral dress and white heels. Adorbs!
Rocsi Diaz opted for a colourful strapless Pia Pauro dress. I love everything except that hair.
Danity Kane repped in black and white outfits.
Paula Patton and her honey Robin Thicke looked gorgeous together. Paula was in a spicy Lever thigh-high slit dress while hubby Robin looked polished as per usual in a suit.
Miss new booty Iggy Azalea showed of her curves in a golden Emilio Pucci dress. Work!
Supermodel Coco Rocha debuted a new short 'do on the red carpet. She was true to her rockstar personality in a biker jacket and cigarette denims. Werk that face Coco!
The Smiths kept it playful.
How cute is Willow in her funky overalls?
Lady Gaga held her ponytail in her hands in a black Prabal Gurung dress.
As for her performance outfit, it was just another day in the life of a Gaga lady…
Ellie Goulding was elegantly lethal in spikes and tousled hair.
Jordin Sparks and her boo Jason Derulo were also in tow. Jordin showed of her hard-earned bod in a white crop top and zippered skirt in white. She accessorized with barely there sandals. Love the look but it looks slightly uncomfy around the waist. Jason Derulo looked nice.
Carly Aquilino was in a white peplum dress.
Model Erin Wasson was in sheer mode.
Lil Kim stayed true to herself.
TLC's T-Boz and Chilli in all black.
Rapper Asap Rocky kissed his model girlfriend Chanel Iman on the red carpet.
Naya Rivera and boyfriend Big Sean coordinated in black.
Joan Smalls was another favourite of mine in a gladiator heels and a white dress.
Macklemore and Mike Will Made It. Love Macklemore's mint suit.
2 Chainz wore a complete Versace ensemble.
A Peak Inside…
Your thoughts on the looks at the 2013 MTV VMA Awards?
Rita Ora stays winning for me. I also love Coco Rocha and Selena Gomez.
Who had your favourite look? Who was underwhelming?
Share your thoughts. Share this post.
Love & Light
x
ciara
elleie goulding
lady gaga
macklemore
mike will made it
miley cyrus
mtv awards
mtva vma awards 2013
red carpet fashion awards
rihanna
selena gomez
taylor swift
vmas 2013