It's Monday and what better way to hasten the beginning the of a long week than to do a #ManCandyMonday #MenswearMonday…(call it whatever you want) feature?
Let's face it, we don't talk about male fashion enough. I'm guilty of that to say the least. This post is for all the hot fashionistos out there. Here's me (us) saying: we see you, we appreciate, we take note and yes, we swoon… Let the testosterone roll.
To kick-start our male fashion bloggers countdown, I bring you model, host and lifestyle blogger, Christian Thompson of Christian Confidential. His blog has a lot to offer from exciting giveaways, trendy outfits breakdown, cool interviews and exercise motivation / tips, his body… 😉 …and everything one could expect really from such a hip blogger. Make sure you check it out.
He hasn't got a blog (that I know of) but Dualleh's  Lookbook is incredible. He's a stylist, DIY lover, photographer and artist. And this all comes across in his style. With a modern vintage aesthetic, the Netherlands based Dualleh has mastered the art of mixing different textures and prints to create the timeless product of art that is his style. Find his Facebook here.
Born in Bologna, Italy this 26 year old has set the bar very high for other male fashionistas to follow . Together with Filippo Fiora, they launched the most important Italian menswear fashion blog, The ThreeF. Aside from their duo site, you can also find slaying on this Tumblr. This guy can work anything literally. His looks are so fresh, modern and well-thought out. 'Nuff said.
A men's style enthusiast who oozes so much personality. I spotted a picture of him on Instagram and his style immediately caught my eye. He has a great eye for fashion and styling and puts out distinctively strong looks. His 'About Me' video gives further insight into his style aesthetic and is indeed a must-watch.
Dejon is a stylist extraordinaire. His blog, The Stylist Playground is the bomb. It's all in the details guys. He is Mr Perfection when it comes to styling. Every single look he puts out is goood. If you've got styling enquiries who can style you better than The Stylist? Find Dejon on Instagram for queries.
When I flick through Jason Andew's Tumblr, I see class,I see uniqueness,  I see effortless vintage style, I see a gentleman. Jason has IT. He is just too cool to not mention him on my top best dressed males of all time. Go get 'em Jay 🙂 I'd love your hat collection by the way.
The most fashionable brothers in fashion. There isn't too much of an About Us page on their blog so I am not sure if they are twins or not. Even though I've tagged their pictures to identify each one, I can't tell them apart for the life of me! Swann & Loic Joachim have a minimalist modern approach to fashion which alway wins. Plus I love how they layer effortlessly.
Swann Joachim
Loic Joachim
What's up Doc? This is dapper professionalism at its finest. Raymond's blog serves a fine mixture of personal street style from the DMV  coupled with his creative OOTDs. This is one dapper doctor y'all. I love it.
With a background in marketing, Jesse fused his love for photography and automobiles into a lifestyle blog in 2011. The outcome was fascinating. His style is bold, fresh and very current. Definitely not for the faint-hearted.  His fierce attitude (and those cheekbones) carry off even his simplest ensembles with so much character.
Angel Ramos is the owner, creative director and designer of hand tailored clothing line Angel Bespoke. His style reflects the 'Angel' way of life which is the effortless execution of a perfect dishevelment. Esquire Magazine named him best dressed real man for 2010. That says everything. His attention to detail is amazing.
Dan Trepanier is the founder of one of the most popular men's style bogs. As an Esquire Magazine Best Dressed Men In The real World, Dan present his flawless eclectic style is a way that isn't being done by many. This blog is a refreshing delight as it features not only Dan's style style interpretation but I've discovered so many other cool fashionistos through. Love their Outfit Of The Day fashion face off.
J.E Adamu is a twenty-something year old style blogger is born and raised in Toronto to Nigerian parents. He is the definition of dapper. Hence the blog title 😉 His style is impeccable. He's not scared to incorporate colours into his outfit and he does it to a T. He always looks runway-sharp and I love it. Definitely a force to reckon with in terms of male styling. Werk!
This blogger is also a stylist. He has styled the likes of Fantasia and Adina Howard. Love his mix of vintage and current trends. 
SAbir M Peele is another blogger who's had the honour to be named Best Dressed Real Man in America  by Esquire Magazine. He's the  Editor In Chief/Creative Director of Men's Style Pro, Sabir has a deep passion for menswear and all things manly. My favourite thing about his blog? His advice and useful style tips which come in really handy. 
Dan Chiz (Real Guys Wear Ties) sets out to explore the personal style, grooming and lifestyle of a modern millennial man. In a few words, Dan sums up himself as: an NYC dweller, fashion week attendee, excessive instagrammer and GQ and details obeyer. Well, it shows. I love the detailing of his looks. This leather jacket for instance should be hanging in my closet 😉 Visit his blog for more editorial-worthy looks.
He is a fashion blogger and stylist from Casablanca, Morocco. His affinity for trendy and edgy street wear is what caught my eye. I love that he's into details! Studs, zips and spikes are always a part of his look. Plus he owns some of the sickest trousers. And his shoe game slays. I love his collection!

Laid-back  meets cool. That's the vibe I get from Jabari's blog. He's the definition of casual cool well done. Visit his blog to learn how to nail those basics.
What's not to like about Wale? From the innovative pieces he  creates to the way he struts in them himself. It's one thing to be a designer, but it's another to wear your own clothes well like no one does. Wale does both. I was awestruck when I visited his online shop Ikire Jones. The colours, the fabrics, the prints and most of all the stories. The stories captivated me. I can't sing his talent enough. Go see for yourself.
Greg Clark is an amazing stylist who doesn't need to say much. His Tumblr blog speaks volumes. Featured on several style blogs and magazines with quite a few well-known names on his stylist accolades, he is definitely worth checking out.
Daniel Trust Ndamwizeye is  a Rwandan youth motivational speaker and genocide survivor with a love for style and fashion. He says on his blog: 'While I truly enjoy (speaking) sharing my story with students and educators across the country, my other passion is fashion — especially men style: that's why I created DTStyleDaily.com, a place where I can share my personal style with YOU and everything I find interesting.'
According to Rashad it's luxury or nothing. And that's exactly what he's here to give y'all. With tailored pieces and expert layering, Rashad's IG is a joy to look through. Hi Tumblr is vacant 🙁 but find him on Instagram @hescockky.
Isaiah Johnson is one dapper and collected gentleman. His blog is on menswear/lifestyle and freelance photography. I love that his looks are very clean and well put together. In his words; 'I wanted to create something that would be affordable and relatable to everyone no matter their size or gender, so you'll notice most of the clothes I put together are thrifted, which I hope inspires people to think outside of having to spend a million dollars to look and feel great.   My goal is to show you varied outfits that can all be acquired on budget.  Most importantly, I want you to know that self acceptance is priceless."…'
A well distinguished gentleman, a sartorialist and a well-dressed citizen. The impeccable Terry Corbett. His online shop sells made to order Belgian loafers for men. All of his footwear is by the Park en Madison brand. I fell in love with the shop's 'About Us' page: Park en Madison makes shoes for Men who eat steak, smoke cigars and love a fine dram of scotch, perhaps with just 1 ice cube, "he may want to let it open up a bit." He's an Aficionado, a Bon Vivant, a Gourmand. Some even say, "He's the Sartorialist to the Sartorial."…
He's the other half of the first Italian fashion blog The ThreeF. You've already seen Filippo Cirulli on #3 above who's also a blogger on the same platform. I can't with this Italian hotness. Whenever I see Italy and fashion in the same sentence, I expect quality, authenticity and class. Filippo Fiora is giving all that and MORE.
I always love a twin blog! Mark and Marlon Austin are styled like no other. These talented twins have tonnes to offer including their bespoke creations. I love how the infuse rare vintage pieces with chic modern wares to create this well-balanced style. Footwear is a plus. They are literally killing it. Their exclusive footwear, suits and shirts brand, Bespoke Couture, has a lot to offer you n terms of handcrafted original masterpieces.
Kenneth is a model, actor, father and decision maker. You know you'll be on my Top Bloggers list if you look as good with your clothes off as you do with them on! Bring on the heat Ken, we diggin';) Visit his blog for more swoon-worthy snaps.
Wale describes his blog as 'just your everyday man stumbling…somewhat carefully… through his love affair with menswear.'
His motto? Work hard, dress well. And he sure does. I just love everything about his fine styling. Very impeccable. His shoe collection makes me happy. On his blog you'll find relevant brand product reviews, what to wear ideas and so many helpful tips on men's styling. He's definitely a top contender for best male fashion blogs.
Edward Honaker has perfect hair hence his Tumblr blog Edward's Hair. His style aesthetic is preppy cool style  with just a nice touch of intended dishevelledness. He's rocking it. His style is giving me a certain Gossip Girl vibe or am I the only one? Did I mention how insane his photography portfolio was??! I was amazed by the deep images he'd captured. Be sure to tune in in to his blog.
Well you don't expect to visit a blog called Proper As Hell without seeing a guy whose style was well, proper as hell. For this young style blogger, the key is in the details. The squares, the hats, the brooches, the shoes, the glasses…everything comes together nicely and forms one hell of a good look. Bravo gentleman!
Bryan Boy has come a long in the fashion industry. The fact that he's currently a panel judge on the America's Next Top Model show is a testament to how impacting his passion for fashion is. His aesthetic is cheeky, quirky and haute. Go Bryan!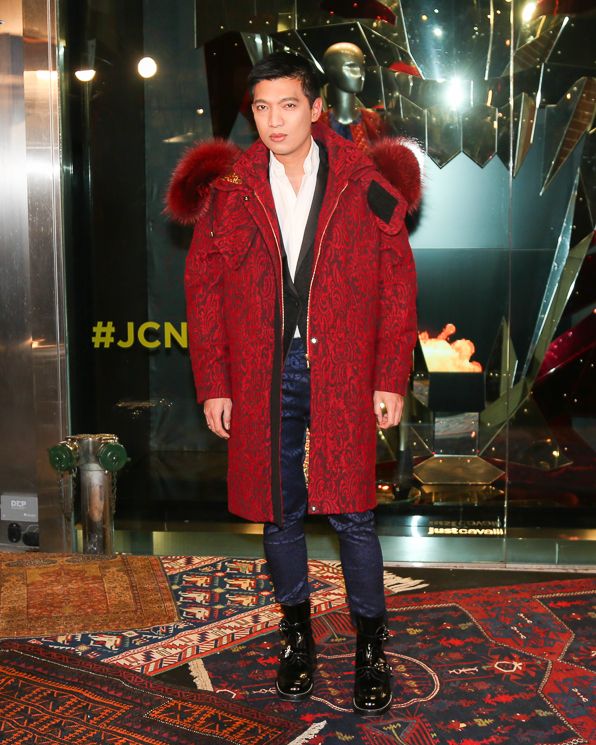 Y'all gon' learn today how old school is done…This brotha is taking old school vintage realness to a whole new level. He does it tastefully. I LOVE his aesthetic. Very unique. He's serving the sartorial gentleman and I like it. Visit his blog to view fashion through a brotha's eye.
Steven Onoja is a Nigerian style enthusiast. Steven is inspired by everyday life, culture and the mix of fashion from the best of both cultures. His blog is absolutely impressive I must say. I couldn't stop going through his pictures. Impeccable styling. Mix of textures is a gift and he has it.
I had one of those 'finally!' moments with this blogger. After seeing his picture on Tumblr for so long, I was finally able to trace the identity of the blogger. Gosh, I hate when that happens by the way. If someone is fly, please tag them or provide source information. Anyhoo, not only does Simon have great sense of style but the content on his blog is amazing. Very useful. Guys get in here. he's got EVERY topic covered.
While I can't say this for many male bloggers, I can say this for Toni Tran; I'm seriously coveting some of his wardrobe pieces. This guy is bringing out some delicate wools, luxury laces, fine linen and hot accessories (that feather), woven scarves… and I want all of it! Plus his feature on food, travels and photography is out of this world.
Joshua Kissi and Travis Gumbs are two cool lads you'd want to know. They are the faces and voices being the popular men's lifestyle website Street Etiquette.  Founded in 2008, Street Etiquette showcases style using a cultural, historical and urban perspective. With sartorial influences stretching from all parts of the world and eras, Street Etiquette has managed to assemble a truly unique view of fashionable menswear.  Among other accolades, Street Etiquette has been featured in magazines such as GQ, Complex, Essence and Fantastic Man, it was ranked Best Men's Style Blog by the Guardian UK, and named among "40 Bloggers Who Really Count" by the London Times. The New York Times published an article, " Serious About Cool" that told the story of Street Etiquette's cultural success and the duo that founded it.
A combination of vibrant street style, captivating photography and style-rich snaps is just a tip of what you will find on Dapper Lou's blog. Exceptional work he does. Great job Lou 🙂
He spoke and style happened. This dapper specimen of a man is called Brian Sacawa. This multi-talented blogger and musician just oozes that confidence and style that comes with having a certain amount of expertise in your field. He also offers some great fashion advice on his blog. You wouldn't regret time spent on it.
Need I say much? His blog title says everything. The accessories, the lifestyle, the quality, the accolades…this guy is the whole package. Each outfit is even more suave than the last. I absolutely love his work and he deserves all the praise he gets. Matthew Zorpas is a London-based creative consultant. He founded The Gentleman Blogger in June 2012. This stylish individual has been recognized as the 2nd Best Dressed Man in Britain by Esquire magazine UK (2010) and GQ Taiwan named him one of top five best dressed men in the world for 2013. Matthew has released his first self-published book, London 100, A Gentleman's Guide. The book features Matthew in 100 of his favourite locations in London, in 100 different outfits. Available to purchase at London100. I've included a picture of him on that fantastic chair because I need it in my life! Any ideas anyone?
Henri-Nicholas is a one of a kind blogger. He boasts some key pieces in his wardrobe which totally sealed his looks. That bric suede jacket for example. The bomb.com! I love his clean and modern style and his blog because it has so many fun features like Girl of A Kind, Stylish Men etc. Be sure to hit it up.
Kenya's top male fashion blogger, Franklin Saiyalel is no small force to reckon with. His style bears an element of current trends with a mix of his rich African heritage. He swags it out like a true African fashionisto. Follow his style adventures on Instagram.
Joseph Kent is a 22 year old street photographer and fashion blogger with a quirky, cool and fun style. The birdie umbrella and banana jumper here for example are absolutely adorable 🙂 I love people who pay attention to detail and he does. It's also refreshing that he co-blogs with the beautiful and colourful Maddy. Thumbs up guys!
Someone suggested this blog in the comments so I checked him out and …OMG. How have I never heard of him? His blog is insane. Outfit after outfit after outfit. I just had to modify my list. Make sure to check Mario out. Simply gone with the wind fab.
"Born in 1989, in the small and fascinating Assisi, Mariano Di Vaio leaves Italy very soon, just eighteen, to pursue his actor and model career: one year in London, working as a model, and then in New York City, to study acting at NYFA.
Back to Europe, he continued his professional career as a model, quickly obtaining magazine covers and collaborations with top international brands (i.e. cavalli, brunello cucinelli, gucci) In March 2012, he opened his own blog, www.mdvstyle.com, a digital magazine dedicated to men's passions: no just fashion, but also lifestyle, sports, travel, music and movies. The growth of the blog, combined with his official profiles active on social networks, made Mariano one of the most influent worldwide fashion blogger, able to reach, on a daily basis, millions of people." 
And there you have it! 40 Fabulously Stylish Fashionitos from around the world. They are not listed in ANy intentional order. I usually make up up my list as I find these blogs. So there's no competition 🙂
There are TONNES of male fashion bloggers out there in the blogosphere. I couldn't possibly have featured all of them. There are so many cool ones I am still to stumble upon. Please leave your feedback with cool male fashion blogs that I haven't mentioned on here. 
Which blogs are you bookmarking? And not for ulterior motives …hehehehe 😉
Hope you enjoyed the post ABYers.
xoxo Lydie
a brothas eye
best male blogs
blogger
bryan boy
christian confidential
fashion
fashionisto
filippo cirulli
les freres joachim
male bloggers
male fashion
mens fashion
menswear
mes style