2013 has seen a slew of different styles and trends take over. Bright coats, tartan and plaid, sheer inserts, cute jumpers, monochrome amongst many others. But amidst the fast ever changing fashions, a few of  our favourite famous names have been able to keep up with trends and even created some trends of their own while at it. 
As 2013 dwindles to a merry end, we'll be counting down some of our favourite style and beauty moments of the year. Who was on top of their style game this year? Who slayed in the style department? What has been our most memorable fashion moment of 2013? We'll be starting this battle off with Most Fashionable Fashionistas in the African Movie, Music and Entertainment industry. Who was your style star this year? Here are the nominees:
1. Rita Dominic
Rita Dominic has had a great all around year so far.With several acting accolades and notable performances under her belt this year, the 38 year old had every reason to smile, stop and pose for the cameras. Rita has always been a fashion fanatic.And this year her love for fashion wasn't any less obvious. With brands like Guiseppe Zanotti, Christian Louboutin and Isabel Marant on her fond list this year, it was very evident that Rita Dominic was aware of the top trends this year and wasn't afraid to rock them. Capes, sheer inserts and powers suits were some of her favourite looks this year. She also kept her favourite 'do, the big curly fro, going strong. Peruse through some of Rita's best looks of 2013: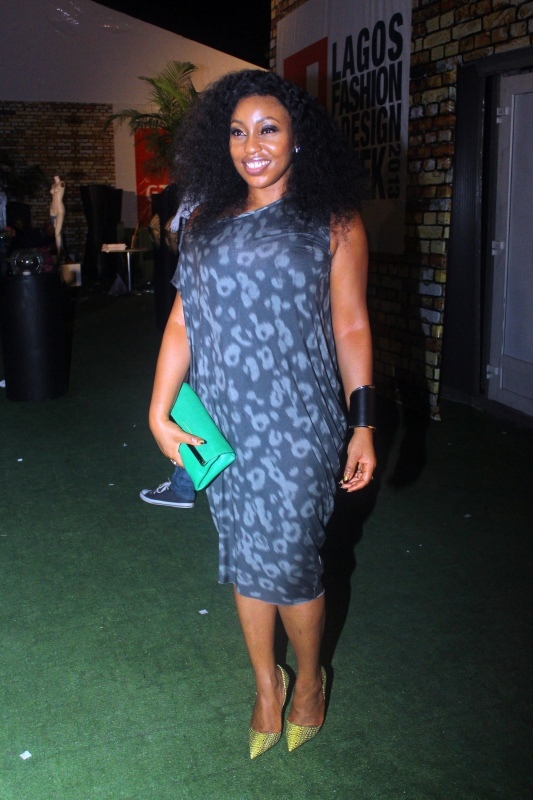 2. Yvonne Nelson
Yvonne Nelson has always been Ghana's sweet heart. But she took things up a notch and became a sex symbol this year when she introduced her new svelte and banging bod to the world…and also when Iyanya claimed he had her medicine… Anywho, everyone was taken with Yvonne Nelson this year. With so many girls wanting to be like her and thousands of guys wanting her, Yvonne Nelson has been a force to reckon with. Her fashion game also took a turn for the best. Chanel, Louis Vuitton, Zara and Prada are amongst some of her wardrobe favourites. She's the queen of mixing high fashion and street fashion. She's also the queen of the famous Instagram #seflie. But hey, she's looking good, we ain't complaining. Everyone loves a fashionista who can look good in both traditional and formal wear. And Yvonne does just that. Yvonne also bagged herself a Best Actress award this year and proved that she's not just your average beauty. She's got brains and talent to back that. Check out a slew of her looks below.
3. Eku Edewor
Eku is a Nigerian model, actress and glam princess of TV. The fact that her style was one of the first things I ever featured when I just created this blog speaks volumes. Eku Edewor is and has always been slaying. And this year, like every other year, she only gets better. With her runway model looks, it's no surprise that Eku looks great in whatever she wears. She's definitely high fashion and classy in my book. Alongside her popular show on MNET Africa, Studio 53 Extra, she also had a few cameo and movie roles this year which cemented her as a force to reckon with. Here are few of Eku's most fashionable moments.
4. Genevieve Nnaji
The woman after my very own heart. Queen Mother of effortless flawlessness. The original source from which River Charisma flows…LOL. I am known to go over the top every now and then. But do you blame me? Like a rare gem, Genevieve Nnaji has made herself scarce this year especially.Treating her 83,000 Instagram followers to a healthy dose of her style and funny reposts, she's only been seen when it's necessary. And when she does come out of her hiding, she makes her appearance worth the wait. This Nigerian screen goddess has escalated into an international superstar and rightly so. Her style has been spotless this year. Mixing fun pieces with expensive accessories is what she does best. She's on another level and she knows it. She is one of the prestigious owners of the much coveted limited edition Chanel Lego Bag . Enjoy her most fashionable flicks below:
5. Toke Makinwa
Omotoke Makinwa aka #MorningRose has been this year's breakout star. She's been nicknamed 'MTN' by several blog readers because she's 'everywhere you go.' But if you're an MTN who manages to look on point every time you step out, who am I to complain? Toke has been serving outfit after outfit. Plus her makeup team is doing a fantastic job. I need a few tips on contouring… Hehehe. Toke has also been making waves with her YouTube Vlog. She posts a new video every Wednesday where she usually dishes advices on love, money, friendship, men and sex. It's pure hilarity. You should subscribe to Toke Moments asap! Amidst rumours that she and her boyfriend of 10 years, Maje Ayida, have ended their relationship, Toke stays repping. She even admitted to being paid to attend events.It pays to look good after all! Spy her fashionable fits here:
6. Tiwa Savage
Tiwatope Savage Balogun is a stunner! I had to get that out of the way first. A very refreshing addition to the music scene and our screens.The recording artist who just tied the knot with long time boyfriend, Tee Billz, is making waves. Being a brand ambassador for MTN Nigeria and Pepsi, Tiwa never disappoints with her appearances. One of my favourite Tiwa looks is her Mary Katranzou print skirt and blouse which she wore to her 'Once Upon A Time' album listening party. Simply gorge. Tiwa is a self-confessed high end shopaholic. So it's no surprise she's made this years most fashionably dressed women. Let's review a few of her show-stopping looks: 
You've seen the top 6. Who in your opinion wins most stylish woman of 2013?
VOTE NOW!
Can't spot your fave on the list? Did I leave someone out? I'd like to know!
Drop a comment.Leave a rating. Share this post.
*None of these pictures are owned by me unless stated.
HAVE A FABULOUS CHRISTMAS, DARLINGS.
Love & Light xx
Lydie
best dressed in nollywood
best dressed women of 2013
best of 2013
chanel
Eku Edewor
fashionista
Genevieve Nnaji
isabel marant
Jimmy Choo
rita dominic
tiwa savage
toke makinwa
yvonne nelson