Four of the best all-black celeb Halloween costumes you can recreate!
No one does Halloween better than the celebs. FACT! Their large budgets and armies of helpers, without a doubt, have a lot to do with the success of their outfits, however, their endurance when it comes to partying, is entirely down to them.  
Halloween, for both celebs and mere mortals, is the only time of year when it's okay to completely let go and do something outrageous. For most people, that means going wild with their costume to reveal an alter-ego that would usually be kept well under wraps.
If you're struggling for ideas this year, take some inspiration from the celeb archives:
Steampunk

It's been nearly ten years since the release of Sucker Punch, but the movie remains a great source of costume ideas for Halloween until now. The sexy yet classy steampunk fashion is a guaranteed head-turner and will look fantastic in photos. So if you're looking for an eye-catching costume idea, take inspiration from the characters of Sucker Punch.
Morticia Addams
Last year, Kate Moss attended Jonathan Ross' Halloween party as Morticia Addams. In a long, flowing, black gown and a terrifyingly pale face, Moss, and sidekick Jamie Hince as Gomez, wowed as the family-favourite gothic duo.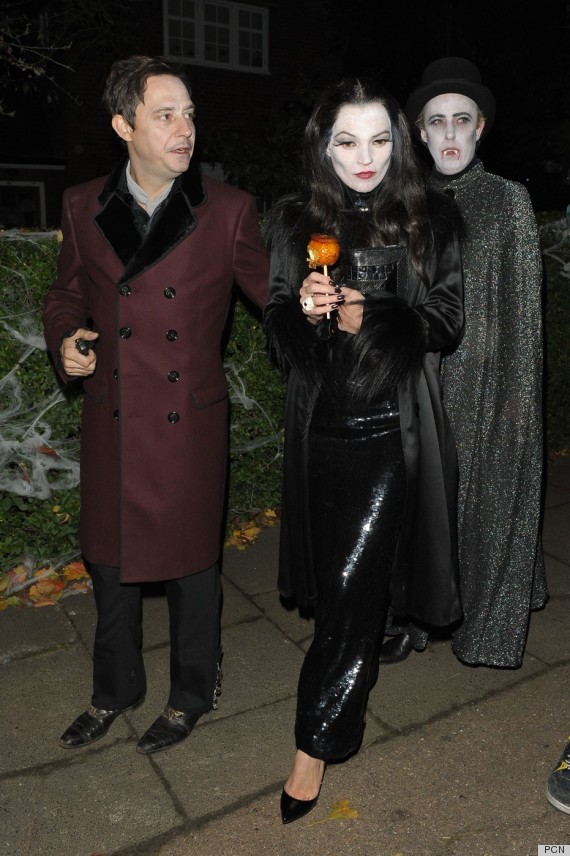 If you're interested in emulating this strange household treasure for Halloween then opt for this gothic inspired gorgeous Audrey gown. Simply team with some black heels, red lipstick and a pale complexion to emulate the original Morticia!
Catwoman
 Halloween is most definitely about bringing sexy back, and Nicole Scherzinger has nailed it in this leather-look jumpsuit.
Fancy taking a walk on the wild side and going feline for the occasion then check out the stunning Maribel jumpsuit from Forever Unique. Add a pair of cat ears, rock a classic smoky cat eye and you're set for Halloween 'purrfection' – we couldn't help ourselves.  
Vampire
Vanessa Hudgens has a threatening sexiness in this delicate, lacy vamp dress.
If you're going to create the same sultry look, you'll need something just as dramatic, flattering and eerily graceful, like this elegant Diamond gown. Compliment this bold look by going all out Goth with a choker necklace, heavy smoky eye and dark lip. You'll be a 'Best Costume' force to reckon with!  
This year's major trend
Maleficent
Every year, the biggest films spark the trends for the most sought after costumes for Halloween. This year, Maleficent is the hottest alter-ego around, and naturally we have the perfect dress to get into character.
Throughout the film the character has two key styles – as you can see above – but, lucky for you, this Bea gown can be incorporated into either look.
Bea + black wings or black cloak + homemade signature horns = Halloween success, not to mention gothic impact on arrival!
Loving the Halloween black outfit picks? I'm here for the Maribel jumpsuit (it's on sale too!) and that Diamond gown. While you're perusing the Forever Unique site remember to enter their on-going competition to win £500 to spend on the site. How cool!
Follow this link to enter.
Got more fun halloween ideas? Share with us!
xo
Lydie
angelina jolie
forever unique
halloween
kate moss
maleficent
morticia adams
vampire
vanessa hudgens