I heard this tune and fell in love with it immediately! This generation is bent on taking Cameroon music to the next level, and I'm loving. Today's Camer Spotlight interview is with the young and beautiful miss Daphne. Her first hit single Rastafari (available on iTunes) had me abusing my replay button. I hit her up with a few questions and this is what she had to divulge:
ABY: Tell us about yourself. Where are u from? Where do you live? age, background, school, names, tribe etc.
Daphne: I am Daphne Njie Efundem. I'm A Bakweri/Bayangi born in Buea, Cameroon 25 years ago (September 20th 1989) and grew up in Douala. I presently reside in Buea. I did my primary education in Government School Bepanda, Douala, my secondary education in Queen of the Rosary College Okoyong, Mamfe and Inter Comprehensive High School Buea. I am a student of Law and Psychology at the University of Buea.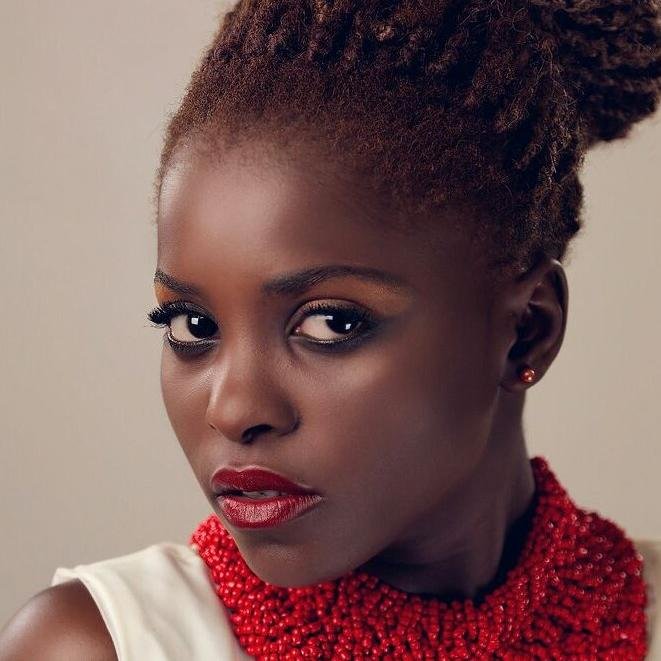 ABY: A well-spoken young woman! I love that! When and why did you start getting into music?
Daphne: I have always loved music and started singing as a child. I still sing in my church choir till date.
ABY: How did you get discovered?
Daphne: I was working with Prince Mykel Enobi of No Hits No Records (NHNR) when he introduced me to Steven's Music Entertainment management team. They were impressed with what they saw and heard and like they say, the rest is history …
ABY: Wow. We're very happy they tapped into your talent. And what a hit first track! What inspired this beautiful Rastafari track?
Daphne: Life! This song is about life, its ups and downs and how most often we overcome our adversaries. It's a song about belief and keeping the faith.
ABY: It's so catchy, I love it.  Any other singles you are dropping out soon?
Daphne: I have a lot of other singles yet to be released. We are actually in the process of finalizing the album.
ABY: Great! I'll be sure to check the new tunes out. Do you write your own songs?
Daphne: I write most of my songs, and a few with help from others.
ABY: What are your hobbies?
Daphne: I like singing, acting, dancing, swimming, shopping and cleaning around the house.
ABY: If you weren't a musician, you'd be…?
Daphne: I would be a counsellor!
ABY: As a musician what's the best thing that can happen to you?
Daphne: The best thing that can happen to me is to have my music recognized…I would like the message of my music to spread around the world. I would love to win awards across the globe.
ABY: That's the attitude! What's the most prestigious award you'd like to receive as a singer? AFRIMMA, MTV etc.
Daphne: I will value any award I get because that will be testament to my music being loved, heard, and its message being spread to others. I will say the Grammy's, but I also value the Kora (please come back), MAMAs … AFRIMMA is new and exciting…and I will love to win awards all over the world, and in Cameroon and Africa in particular.
ABY: You definitely have the right attitude and talent to win all of the above! Which instruments do you play if you play any?
Daphne: I am learning how to play the piano…wish me luck.
ABY: Haha, good luck 🙂 The Camer music industry is growing and expanding. What unique, interesting or beneficial aspect are you bringing to the table?
Daphne: The uniqueness in my music is that there is always going to be a lesson/message factor in my songs. I am bringing music that will make people reflect. I like the motto of my record label; "We are about music with more soul, more rhythm and less noise".
ABY: Which famous musicians do you admire? Why?
Daphne: Michael Jackson (RIP) – he just knew how to pick a song. And he could sing! Whitney Houston had the best voice and a stage presence to die for. Manu Dibango is the epitome of cool!
ABY: Which Cameroonian artists do you admire?
Daphne: I admire Cameroonian artists like Bebe Manga, Sam Mbende, Richard Bona, Henri Dikongue Petit Pays, Sam Fan Thomas, Ottou Marcelin, Mama Nguea… but I admire even more the new generation artists, Magasco, Andy, Charlotte Dipanda, Gasha, Museba, Stanley Enow, Rhythms, Ewube, Ciana, Askia and many more (I cannot list all) that are going against odds to showcase Cameroon's culture through music.
ABY: What did you have to overcome as a new artist in the Cameroon music industry?
Daphne: Well the struggle is tough since the urban music industry is young. It took me a long time to find people who were ready to 'risk it' for my talent.
ABY: What's your advice for people who want to get into this business?
Daphne: My advice is that you must be ready to sacrifice a whole lot … and dream big!
ABY: Who are your dream musicians to collaborate with? Cameroon & abroad.
Daphne:  In Cameroon I would like to collaborate with X Maleya, Petit Pays, Stanley Enow, Magasco, Mappe and Gasha. Internationally, I would like to work with Sean Paul, Flavour, Sarkodie, Tiwa Savage, Efya and Becca from Ghana. Most especially I would like do a song with Rihanna and R.Kelly. One can dream!
ABY: Girl dream all you can. I see those dreams coming true! We know you're a great singer and dancer, but what other hidden skills do you have?
Daphne: I have been told I am a good actress…I like acting too.
ABY: Oh okay. I'll be looking out for that. What is your favourite Cameroonian meal?
Daphne: Fufu and Eru any day any time.
ABY: Bayangi to the core! Where do you see yourself and your career going from here or years from now?
Daphne: I believe with hard work, success always comes. I hope in a few years, I can look back at a catalogue of records that inspire people to dance and to be at peace. I am in it for the long haul so I see more good music in the future.
ABY: Anything we should be looking forward to?
Daphne: My next single will be coming out soon…please be on the lookout!
ABY: We will! How do we keep in touch and access your music?
Daphne: My music is on iTunes, Google Play and all major digital outlets. You can learn more about me and my music at www.stevensme.com, and you can stay connected with me on Facebook (Daphne E.N) and on Twitter @Is_Daphne.
Thanks for the lovely interview Daphne.
**Contact me on artbecomesyou@yahoo.com if you are an artist, singer, dancer, entrepreneur and would love to promote and showcase your work.
A fantastic weekend to all!
xo
Lydie
camer
camer music
cameroon music
daphne
itunes
music
stevensme
talent