The way the beauty industry got lit towards the end of 2017 had us knowing that there's a lot about to go down beauty-wise in 2018. Here's to more inclusion this year. However, as much as I'm looking forward to new releases this year, there are some hot ass must-have staples from last year that I will be taking with me into the new year:
Too Faced had so many badass palettes last year but the one that stood out the most to me (the peachy palette came really close) was the Chocolate Gold. This palette had everyone raving about it. It's such a pretty palette. Packed full with shimmers, there was a little something for everyone in the £39 Too Faced Chocolate Gold palette. A handful of warm, neutral and bright colours made this 16-colour palette a must have. The 'New Money' shade especially looked so tempting.
2. Huda Beauty Desert Dusk Eyeshadow Palette
At a whopping £56 the Huda Beauty Desert Dusk eyeshadow palette was one of the most used palettes in 2017 for a reason.With 18 ultra-versatile powder shadows – eight matte shades, six pressed pearls, three duo-chrome toppers and one pure glitter the Arabian-inspired palette was every warm palette lover's dream. The eye looks with this palette are endless. It had every blogger dying o get their hands on it and I doubt we've seen the last of these beautiful shadows.
£56 is a bit steep for an eyeshadow palette to be fair. So if you're looking for a dupe for Desert Dusk palette, this £15 Makeup Revolution Amplified Innovation palette has a lot of similar warm colours especially the pinks and oranges. 
Or you can save even more money and grab this £8 MUA Burning Embers palette which is equally as pretty. What a bargain!
3. Nars NARSissist Loaded Eyeshadow Palette
As the name implies, this neutral eyeshadow palette is loaded. It's filled with pigment, shine and colour payoff. Swipe on one of the 12 velvety powders to get a rich look without any falloff. NARS limited-edition gems usually end up being a new staple in our makeup bags and this was no different. At £55 though, it seems you have to be loaded to be able to buy a kit, no? 
4. Jewels TruNaked Eyeshadow Palette
CoverGirl nailed the concept of producing a quality neutral palette that doesn't empty out your wallet. This affordable palette has eight jewel-toned shadows featuring shades like a dark blue, a deep green, and a plum that will look good on so many skin tones. The shades were selected by makeup artist extraordinaire Pat McGrath, so you know they're worth taking into 2018. Because Pat.
 This palette is on the high end at £60 for 12 shades but it's worth every penny as the colour pay off is out of this world. The 12 vivid and dark shades are perfect for creating a statement smokey eye. This is definitely not an everyday palette and should be reserved for more dramatic evening looks. Even though a few browns and oranges in here would work for daytime. With this palette, all your 2018 nights out will be handle. The only thing missing is a little bit of glitter.
Viseart Dark Mattes palette (left) and Neutral Matte (right). Image courtesy of My Vanity Treasures
6. 39A Morphe Dare to Create Eyeshadow Palette
This made it into the list because whilst it was hot last year, I've only just got it this year. I was one of my Christmas presents so I didn't have to pay for it as well but at £32 (for 39 shades), it's quite affordable as with most things Morphe.
The Dare to Create palette boasts just about every colour desired to create whatever eye look you wanted. From neutrals to warm tones to vivid powders – this palette is stunning. Plus it has 7 transition colours in the centre of the palette. How handy. If you are going to buy any palette that will get loads of use throughout the year, it would definitely be this one.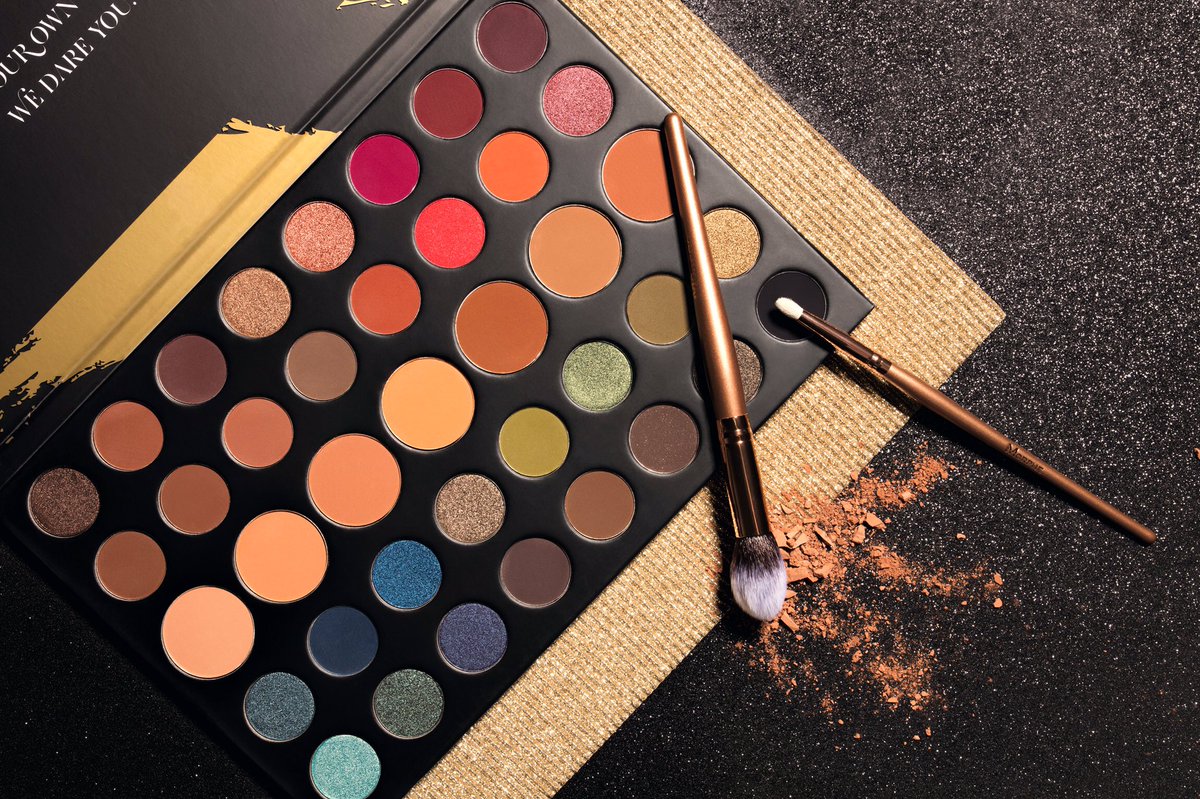 7. Makeup Revolution Ultra 32 Flawless4 Eyeshadow Palette
I love all Makeup Revolution palettes but if I had to pick one, it would be the Flawless4 eyeshadow palette. I got this palette last year and it's still going strong in 2018. One of my most used palette. I've almost hit pan on this and need to restock soon.  First of all, if you are not a Makeup Revolution fan you need to get on them NOW. Their products are brilliant! They are the fraction of high end prices and such good quality. This palette gives me everyday and night looks. It has a range of warm tone colours from oranges, to pinks, oranges and browns. My favourite kind of palette. It's only £8. You can't go wrong with this one.
8. Natasha Denona Lila Eyeshadow Palette
Undoubtedly, Natasha Denona (or shadily referred to as the Deno-no) has featured in quite a few 'Products I Won't Be Buying or Anti Haul' videos on YouTube mainly because of the price point of its products but hear me out. Well, the palette IS overpriced. At £109 for 15 shades on this palette it would be getting major side-eye from me too. Unless I had an extra £150 lying about… But people who have gone on to buy it, swear by it. The formula is simply 100. Natasha Denona is known for its intensely pigmented eye shadows that last all day. The shadows are creamy and soft, making them perfect for creating a well-blended smoky eye look. The Sunset palette is also as fabulous.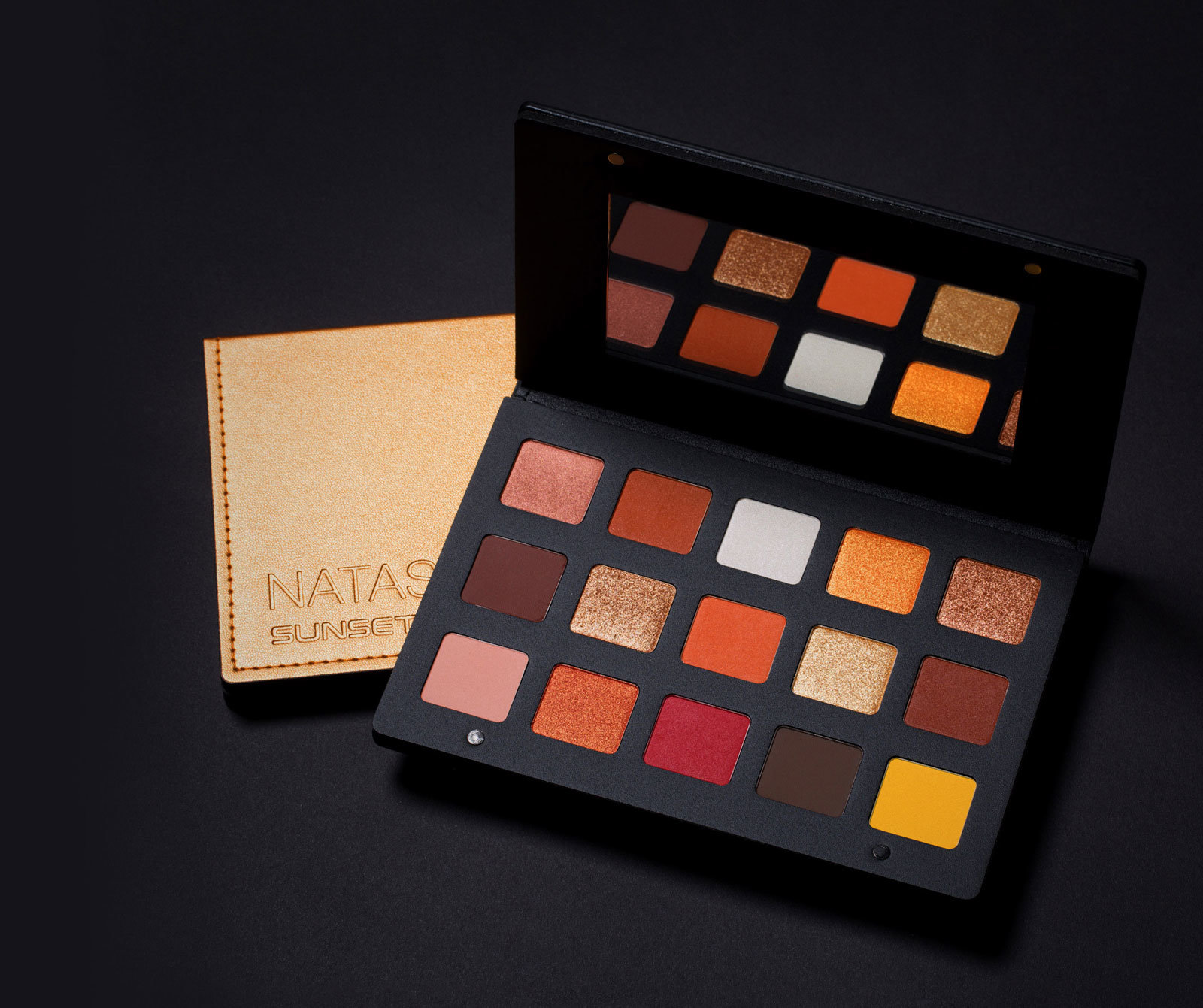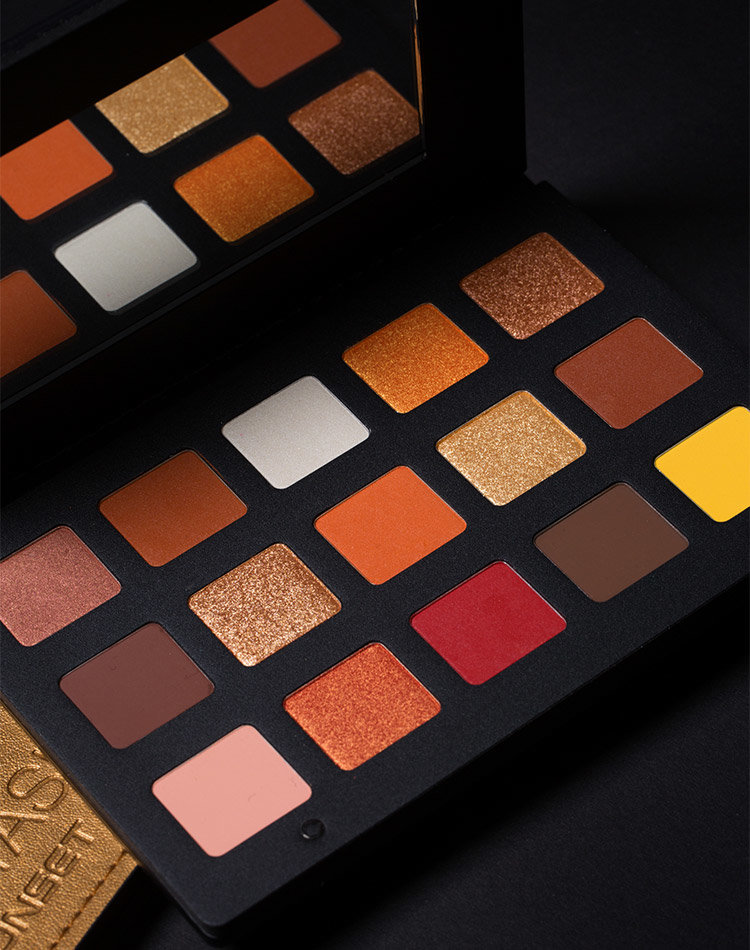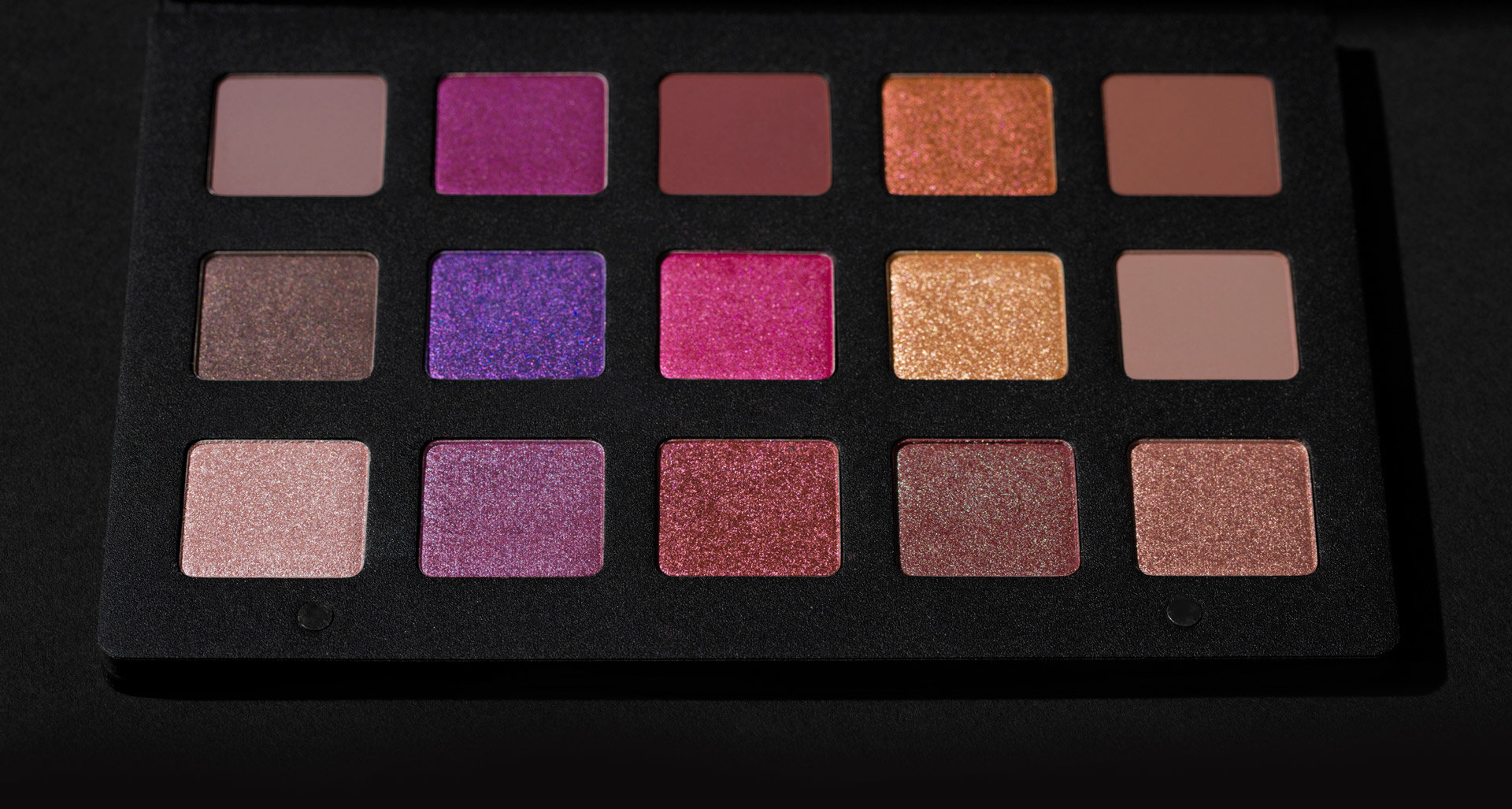 9. Morphe x Jaclyn Hill Palette
This 35-colour eyeshadow palette collaboration was one of the most talked about and sought after beauty guru collab palettes of 2017. Designed by beauty YouTuber Jaclyn Hill, the Morphe X Jaclyn Hill Eyeshadow Palette is a collection of matte, shimmer, satin, foil and glitter shadows. The palette consists of a broad range of colours from warm yellows, oranges, browns and blues. Each shade is formulated and pressed perfectly for an intense colour-payoff and maximum blendability. A landslide majority of people who got this palette swear it's a keeper. At £37 for 35 shades in the palette, it's relatively affordable which is why it's still flying off the shelves in 2018.
10. Juvia's Place Zulu Eyeshadow Palette
This is a must have eyeshadow palette for every bright colour lover. As with all things Juvia's Place, the Zulu palette is of very high quality and is packed with pigment. It retails for £20 and includes 6 matte and 3 metallic shimmering shadows which is quite affordable for the quality you're getting. This palette made me go out of my comfort zone in terms of eye looks. So if you're up for something other than the usual cool, warm or neutral tone eyeshadows this 2018, the Zulu palette should be on your list.
11. Marc Jacobs Beauty Eye-Conic Multi-Finish Eyeshadow Palette in Provocouture
I usually don't go crazy over high end eyeshadow as there's so much you can get for a lot cheaper but with similar quality from other affordable brands these days. But these ultra-luxe eyeshadow palettes by Marc Jacobs had everyone raving last year. They released 6 Eye-Conic eyeshadow palettes but my favourite was the Provocouture one(and the Scandalust eye-conic palette) Each featured four fashion finishes: buttery matte velvet, shimmering satin, sparkling silk and metallic lamé.
Each curated palette includes a covetable mix of chic neutral, wearable shades and provocative pops in a new super-plush shadow formulation to cover lids in lasting, velvety-rich pigment.
12. Pat McGrath Labs Mothership Eye Palettes
Pat McGrath who is the queen mother of pigmented shadows (hence the hefty price tag) aptly named these permanent releases the Mothership Eye Palettes. Each of the three Mothership palettes holds ten pots of pigment. Mothership II: Sublime and Mothership III: Subversive are my favourites. Mothership II boasts a coterie of earthy colours with an edge. A beautiful mix of mattes, shimmery and wonderfully  iridescent shades. The shades are buildable in their dry state, but drip in shine and only require a single swipe when applied wet. This mother of all palettes is definitely a keeper. 
Are there any palettes you're holding on to this year? Let us know in the comments below!
beauty
eyeshadow
jaclyn hill
juvie's place
marc jacobs
morphe
nars
onyx
palettes
pat mcgrath